The bold luxurious 2023 Toyota Sequoia near Natchitoches LA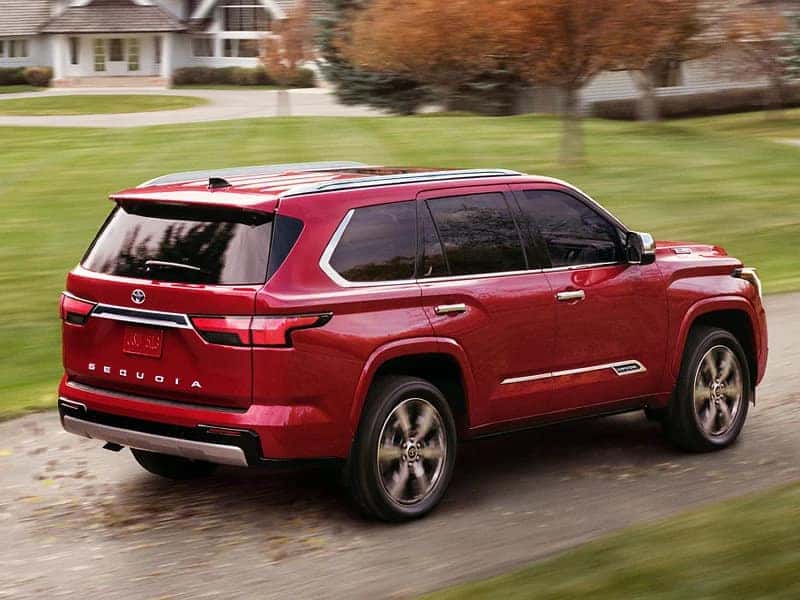 If you love bold, luxurious SUVs that don't require you to mortgage the house, the new Toyota Sequoia for sale in Shreveport is a model you shouldn't miss at Yokem Toyota. These are three main reasons to consider the 2023 Toyota Sequoia from our dealership.
1. The Sequoia comes with a diverse wheel lineup
The 2023 Toyota Sequoia starts with 18-inch alloy wheels, but things get so much more upscale from there. The Limited trim features 20-inch gray-painted and machined-finish alloy wheels, and the Capstone boasts 22-inch dark chrome and machined-finish alloy wheels. With wheels like this, you're always going to capture attention in traffic.
2. The Sequoia has an off-road trim
Do you prefer to skip the city tours and head straight for a country road or trail? The TRD Pro is your trim! This stylish model comes with a TRD Pro off-road suspension system and 2.5-inch FOX shocks. It piles on the style with a black Toyota heritage grille with an LED light bar. Off-roading is just one of the perks of choosing the TRD Pro. This one also comes with an interior that is premium and built to last. You'll have a great place to maneuver from in a high-adjustable power driver's seat. Off-roading in complete comfort is a perk that comes from owning a Toyota Sequoia TRD Pro.
3. The model's 14-inch Toyota Audio Multimedia touchscreen is amazing
You can't deny that a larger touchscreen is a great addition to any SUV interior. It's not just size that matters. Toyota worked hard to engineer this one for clarity and intuitiveness. Your 14-inch display also comes with DriveConnect with Cloud Navigation on request. It's like your personal assistant on the road. Find local food outlets, see movies, or check out city landmarks with ease. Dynamic voice recognition also gets an upgrade this year and works seamlessly with your larger touchscreen. Overall, this is the most exciting technology platform that Toyota has ever installed in its Sequoia, and we think a whole lot of people are going to choose this model just based on its technology. Visit us at Yokem Toyota near Natchitoches LA. Also serving Texarkana Arkansas and Shreveport Louisiana.