Experience the impressive performance of the Toyota GR Supra near Texarkana AR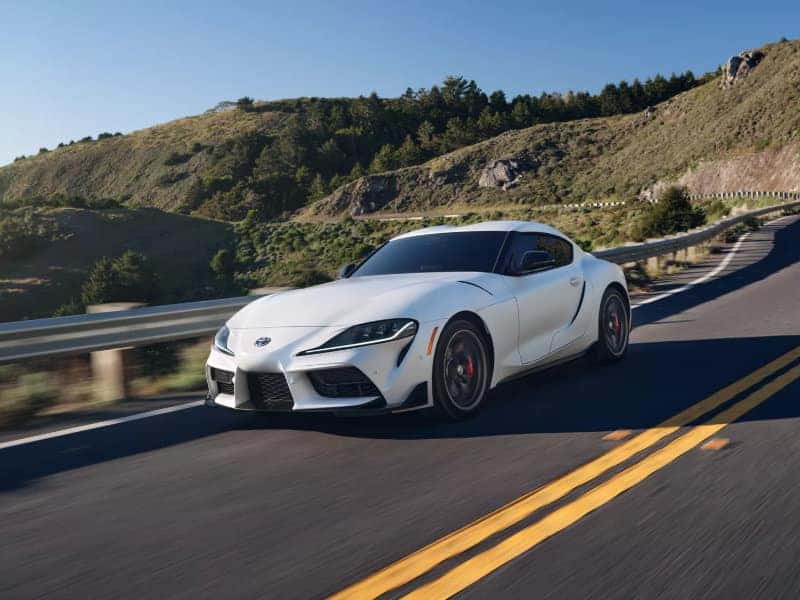 For the sports car purist, a new Toyota GR Supra is a dream buy. It crouches low to the ground and delivers an edgy performance that few drivers ever get to experience in life. If you want something souped up and ready for action, this is a wonderful model to cozy up to at Yokem Toyota. What's this one got going for it?
1. Get a 1-year free NASA membership with a High-Performance
Driving Experience Just buying a GR Supra means getting your chance at a high-performance driving experience. The National Auto Sport Association gives you your own certified driving instructor who'll walk you through what it feels like to max out your GR Supra in a safe fashion. This one is born for cornering and living the track lifestyle. You'll love this perk!
2. This model is a driver's daydream
You can do more than just daydream about driving experiences when you take home the GR Supra. Its 14-way heated power-adjustable sports seats sit low to the ground for a refreshing experience every time you shift the model to another level. You can get really physical with the GR Supra's shifting and controls; it holds up under the pressure. And with Brembo 4-piston fixed-caliper disc brakes on your side, you've got ultimate stopping power when you need it.
3. The A91-MT is an amazing supercar to experience
The fully-loaded GR Supra is the A91-MT. The model's red strut tower braces, Hazelnut leather-trimmed sport seats, and 19-inch forged-aluminum frozen gunmetal gray wheels are extraordinary to experience for yourself. People often buy this model just for this trim. And with a 6-speed intelligent manual transmission, the driver's ability to go hands-on is unparalleled in a "Toyota-Only" way. You'll feel the power from the moment you take control. Visit us at Yokem Toyota near Texarkana AR. Also serving Shreveport and Natchitoches Louisiana.