Used Toyota Tundra in Shreveport LA for Sale in Shreveport, LA l Near Bossier City, Texarkana
Used Toyota Tundra in Shreveport LA
View Inventory


Vehicle Overview
The Toyota Tundra first burst onto the scene in 1999 as as a full-size pickup truck true contender. It immediately made news for itself in the industry as a scrappy go-getter and instant foil to other widely recognized trucks. It remains one of the best choices for used truck buyers. Here at Yokem Toyota, we do our duty by serving Shreveport Bossier Texarkana Natchitoches customers with excellent options like a used Toyota Tundra. Its calm power and sculpted exterior have long set it apart from your regular old full-size. Best of all, it's affordable to all ranges of buyers.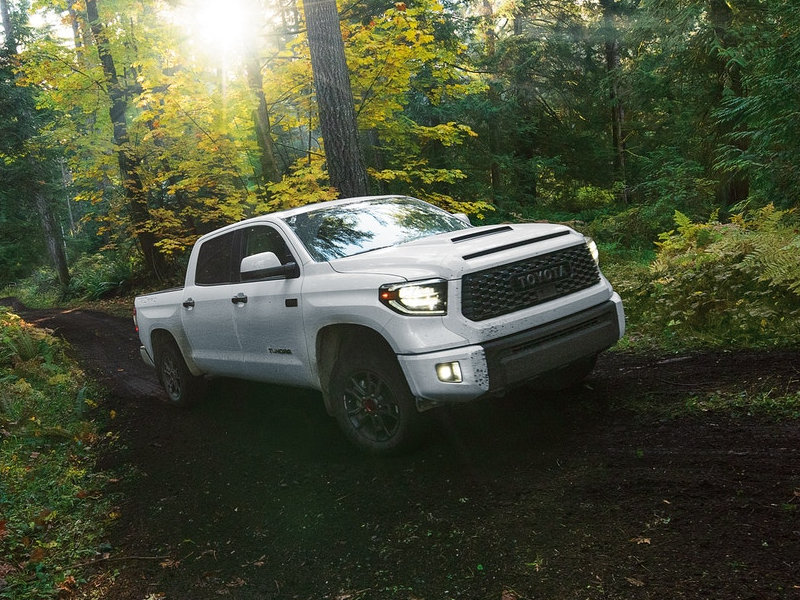 Trims – Used Toyota Tundra
In 2015, the TRD Pro first crashed onto the scene, giving you an off-road Tundra to appreciate. This trail-ready boss has stuck around since then, so you can always get a rough and rugged off-road Tundra when you opt for a used model. Bilstein shocks have been a constant part of the off-road Tundra configurations, lending you an award-winning handling performance (even when you're out there splashing around over rocks).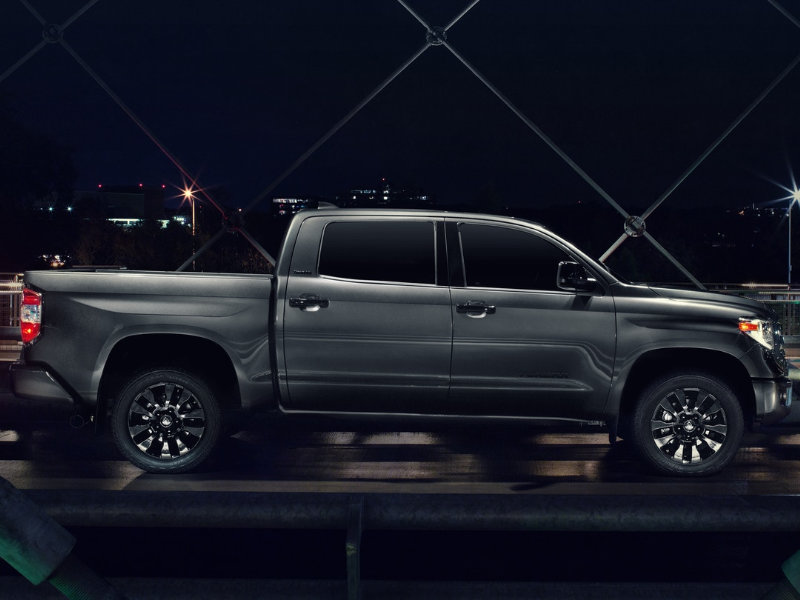 Interior – Used Toyota Tundra in Shreveport LA
Recent years of Tundra cabin have found themselves to be elegantly designed and spaced out to give your family more room to enjoy work or play. The driver-focused design includes leather-trimmed interior upholstery options, driver memory for power adjustments, and a huge center console that has long been a favorite of Tundra owners. Few trucks have the practical layers of features down like the Tundra does. If you want a used truck with a spacious cabin, a Tundra is for you.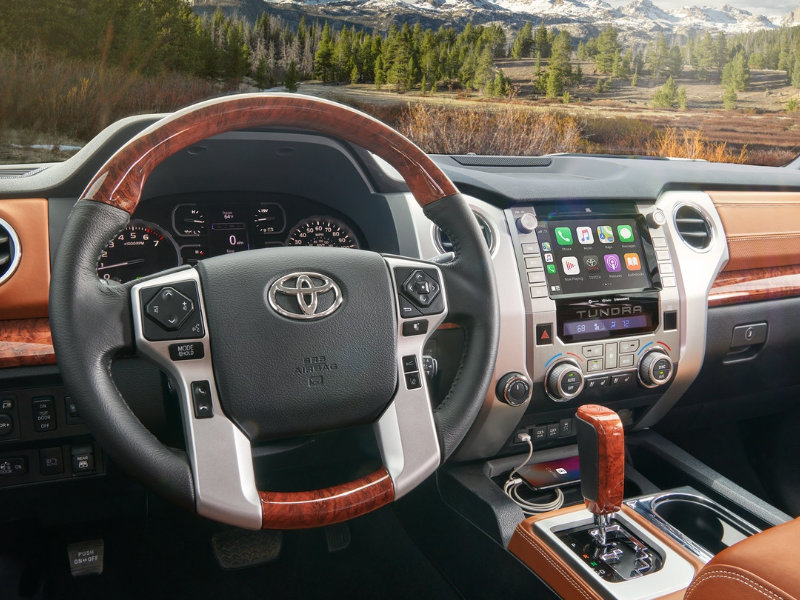 Fair Pricing – Tundra in Shreveport
The Tundra has a long reputation of being reasonably priced, even when you go into the much higher trims of the brand. Recently used models made from 2014 and on contain some of the lowest prices in the world when you look at the features the Tundra offers up. The 1794 edition Tundra first appeared in 2014, so going all the way back to that one will net you big time savings. Thanks to used vehicles "depreciating" in value, you'll find that you get the same modern type features for far less than a new model. New models are priced with dealer fees and ad fees in mind. You're not just paying for features. With a used Tundra, you're paying only for the great features you get.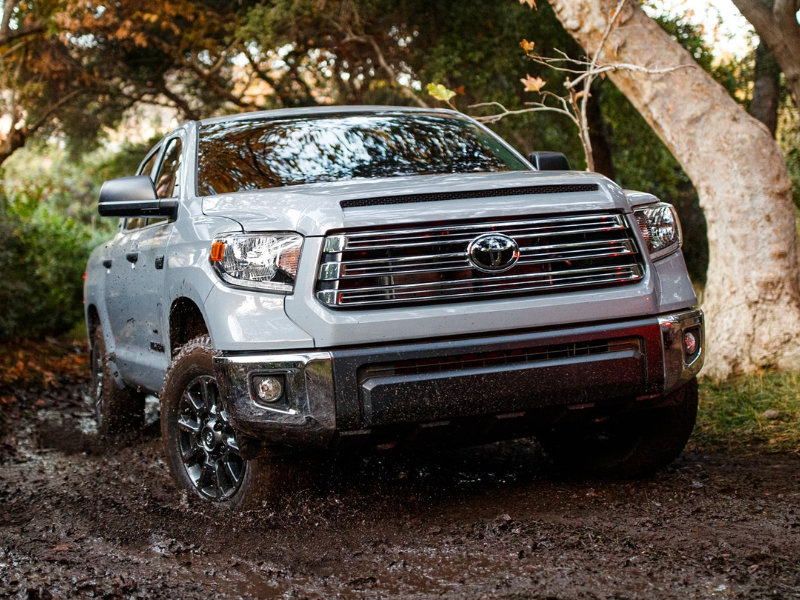 Bed Choices – Toyota Tundra in Shreveport LA
There are many ways to configure a Tundra truck. The brand typically has a regular, double, or CrewMax cab that really lets you decide how much truck bed you need to have. Some people prefer to have a more spacious cabin for the family; others just want to keep it all business and get the biggest truck bed they can. The Tundra has trims to help you do either.
Why Buy Used from Yokem Toyota – Used Toyota Tundra dealer
Yokem is happy to serve you today with a number of reasons to buy a used Tundra from us here in LA. The first obvious advantage of buying a pre-owned truck is that you always get a lower price on your monthly payment and even down payment. Sometimes we even have sales where you can get $0 down on a used Tundra. The money you save buying used can be used for anything you want it for. When you buy a used vehicle, you're getting the same basics as a newer model. The more recently new the vehicle is, the more you're going to get from modern life. However, if you just want a great truck that can take on the world and drives great, going all the way back to early 2000s models is an amazing way to maybe even buy a pre-owned truck outright. When you just need a truck that runs and is in great shape and ready for duty, we've got those, too. Thanks for your interest in the Used Toyota Tundra in Shreveport. The online tools we have for our customers will put you a step in the right direction. Simply request a quote on our used Tundra trucks or apply for financing right online. This is a real timesaver for our busy customers. We know you've got a lot going on in life that you have to take care of. At the end of the day, just pick out a truck from our website, and you can apply for financing right there from the comforts of home. All these tools are here serving Shreveport Bossier Texarkana Natchitoches customers 24/7 online.
Contact Us Today
The Tundra is one of our most popular pre-owned trucks. Every Tundra we have in our inventory is fully inspected on multiple points. If you see it in our inventory, you'll find it's approved by certified mechanics to get back out there on the road. You'll also be able to get a free vehicle history report from us. If you have any questions while you're shopping, please get in touch with us today. The people here at Yokem are always happy to help.