New Toyota 2021 Toyota Tundra vs 2021 Ram 2500 in Shreveport LA for Sale in Shreveport, LA l Near Bossier City, Texarkana
2021 Toyota Tundra vs 2021 Ram 2500 in Shreveport LA
View Inventory


While Toyota has designed the Tundra primarily for the North American market, it has never conformed to the choices made by the American automakers. That approach continues to set the Tundra apart from the other full-size pickups on the market, and it provides consumers with an alternative that really is different and thus may better suite their tastes. With the 2021 Toyota Tundra, the Japanese automaker has introduced a limited Trail Special Edition along with a new appearance package called Nightshade. Often, we compare the Tundra to the Ford F-150, Silverado 1500 and Ram 1500 but decided to shake things up a bit and contrast the Tundra to the most popular HD pickup offered by Ram.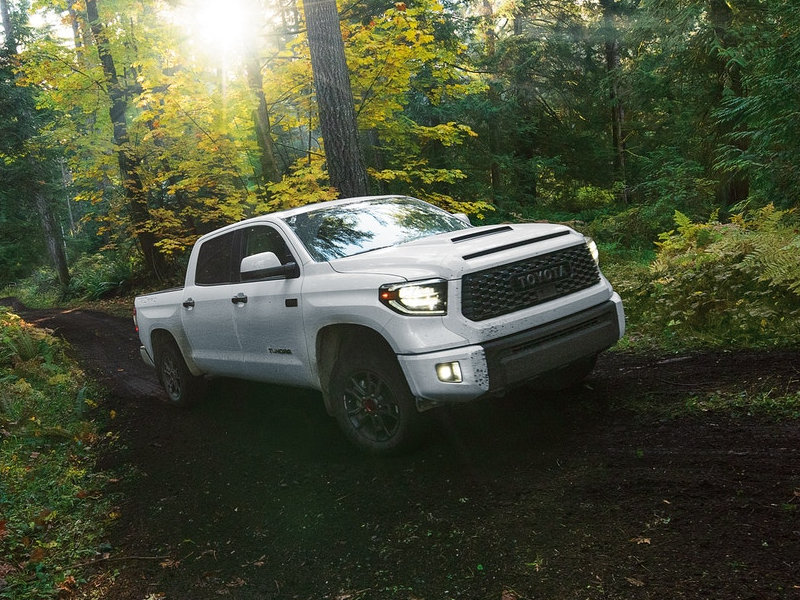 Exterior – Toyota Dealer serving Shreveport LA
One of the first differences that stands out in a 2021 Toyota Tundra vs 2021 Ram 2500 comparison is that while these are both full-size pickups, the Ram is a tad larger overall. Let us consider each model with the largest cab and longest bed available. The Tundra has a 145.7-inch wheelbase and measures 228.9 inches in length—or about 19 feet. The Ram 2500, on the other hand, has a 160.5-inch wheelbase and measures 249.9 inches in length—or about 21 feet. Toyota offers two cab options. Its largest is a crew cab paired with a 5.5-foot bed. It also offers a double cab that you can pair with either a 6.5-foot or 8.1-foot bed. Ram offers three cabs: a two-door cab with an 8-foot bed, a double cab with either the 8-foot bed or 6.3-foot bed or a crew cab with the 6.3-foot bed.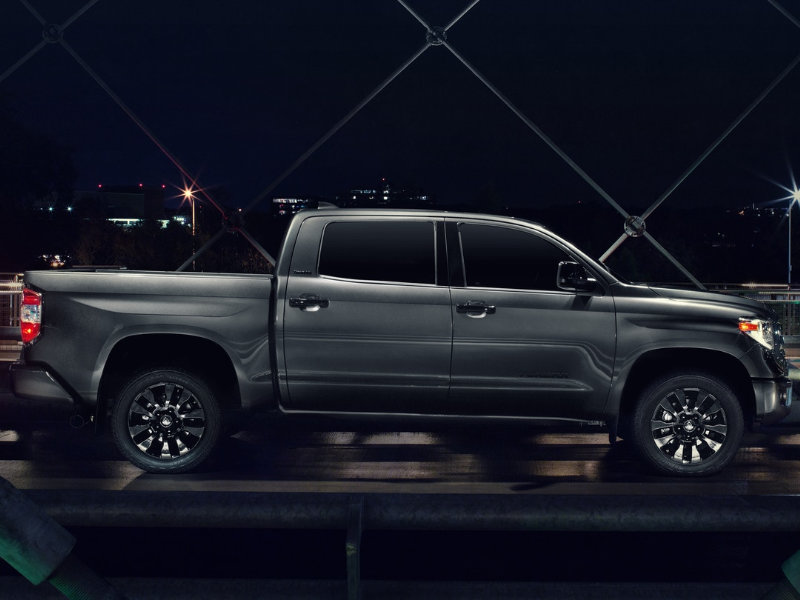 Outside of the regular cab that Ram offers, all of the available cabs can seat either six or five depending on whether you opt for a front-row bench or front-row bucket seats. The double cab available at Yokem Toyota provides 42.5 inches of front legroom and 34.7 inches of rear legroom. If you opt for the crew cab, rear legroom is increased to 42.3 inches. A perhaps surprising aspect of a 2021 Toyota Tundra vs 2021 Ram 2500 comparison is that the Ram 2500 provides 1.6 inches less front legroom. Its longer wheelbase, however, does allow for 5.5 inches of additional rear legroom in the double cab and 0.8 inches of additional rear legroom in the crew cab.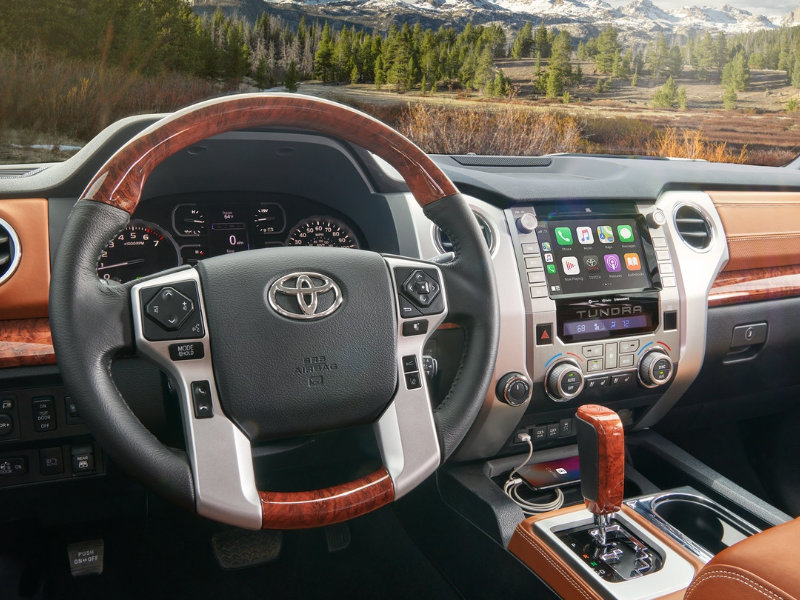 Toyota Tundra Mechanical specs
Both the Tundra and Ram 2500 are available in Shreveport Louisiana with either rear-wheel or four-wheel drive. With most trim levels, rear-wheel drive is standard, and four-wheel drive is optional. The base powertrain for the Tundra marries a 5.7L V8 engine to a six-speed automatic transmission. This V8 makes 381 horsepower and 401 pound-feet of torque and can tow more than 10,000 pounds when properly equipped. The base powertrain for the Ram 2500 marries a 6.4L V8 to an eight-speed automatic transmission. This V8 makes 410 hp and 429 lb.-ft. and can tow more than 17,000 pounds. While there is certainly a performance difference, when you factor in the difference in price and the hauling needs of the average driver, it becomes clear why so many opt for the Tundra.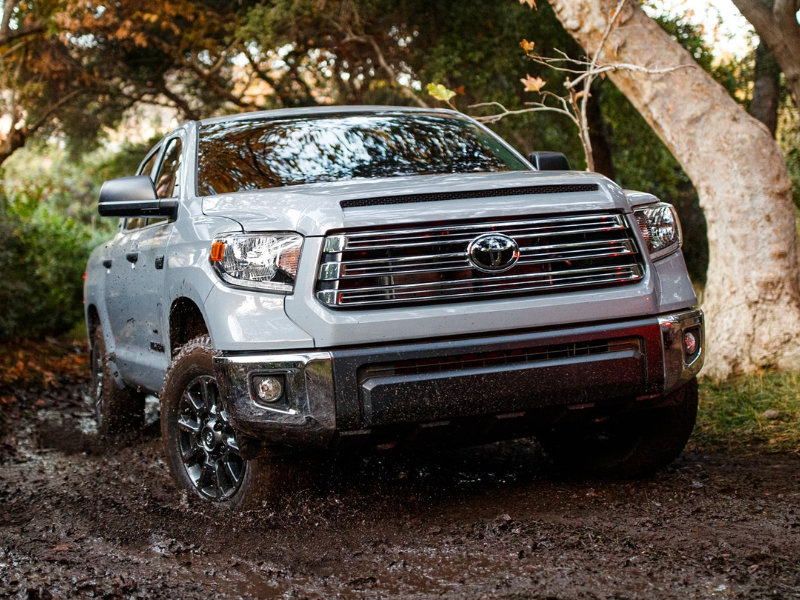 Technology – Toyota Dealership in Shreveport LA
Technologies is an area among pickups where the Tundra is simply unmatched. The base Tundra SR features a 7-inch infotainment touchscreen, a rearview camera system, a six-speaker audio system and Apple and Android device integration. It also includes a trailer brake controller, and its standard suite of driver assists include automatic headlamps and high beams, adaptive cruise control, forward collision mitigation and lane departure warning. With the up-level SR5, you have the option of blind-spot monitoring and front and rear parking sensors, which all become standard with the next trim level. The base Ram 2500 has a basic 5-inch touchscreen. You have to graduate all the way to the Laramie to get a setup comparable with the Tundra. In addition, while Ram does offer similar driver aids, they are only available as an optional group, and that option increases the sticker price by a considerable amount.
If you live in Shreveport Louisiana or throughout the surrounding areas and are interested in the Tundra, Yokem Toyota is here to help. You can visit our showroom at your convenience to test-drive the Tundra, or you can schedule an appointment online. We are also available via phone, email and text, and we encourage you to shop with us online. Compare Tundra trim levels and options, explore pricing and current specials, request custom quotes via live chat, apply for financing preapproval and much more!