New Toyota 2021 Toyota Tundra vs 2020 Chevrolet Silverado 1500 in Shreveport LA Shreveport, LA l Near Bossier City
2021 Toyota Tundra vs 2020 Chevrolet Silverado 1500 in Shreveport LA
View Inventory


Vehicle Overview
The Rise of the SUV markets has made truck companies make very engaging, pocket friendly, and stylish looking models. The 2021 Toyota Tundra makes a great addition to the trucks category. With its powerful V8 powertrain, it makes it one of the most powerful trucks in the industry. The Toyota brand is already a household name, so you can never go wrong when you go for the Tundra. The 2020 Chevrolet Silverado 1500, with its muscular look and pocket-friendly price, is also among the most powerful double cabs today. With competition in the trucks category increasing each year, it's important that you pay full attention to vehicle specifications you want and the goals you would love to achieve with it.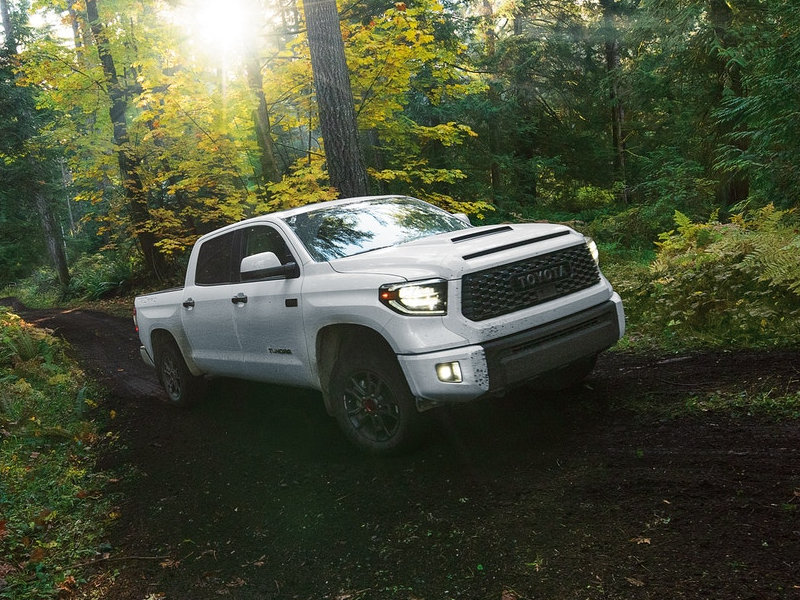 Exterior – 2021 Toyota Tundra
Many Double cabin buyers have different kinds of work they would want to do with their cars, which greatly influences how their ideal vehicle should look. Moreover, how a car looks on the outside makes you proud and attracts people's attention when you're driving down the streets. The Toyota Tundra for 2021 has a blacked-out outer trim, black exhaust tips, 20- inch wheels, and dark- chrome grille. Other notable features of this vehicle include a Solar- energy-absorbing glass, skid plates for the engine and fuel tanks, fog lights, LED Headlamps, and a unique deck- rail system. The exhaust tips and black wheels round up the vehicle's styling. Both Toyota Tundra and Silverado 1500 have cargo beds huge enough to carry even the heaviest of cargos. The 2020 Chevrolet Silverado 1500 has a giant boxy look with split headlights, a big front grille, and a massive hood. The size of the former truck makes the wheels look smaller.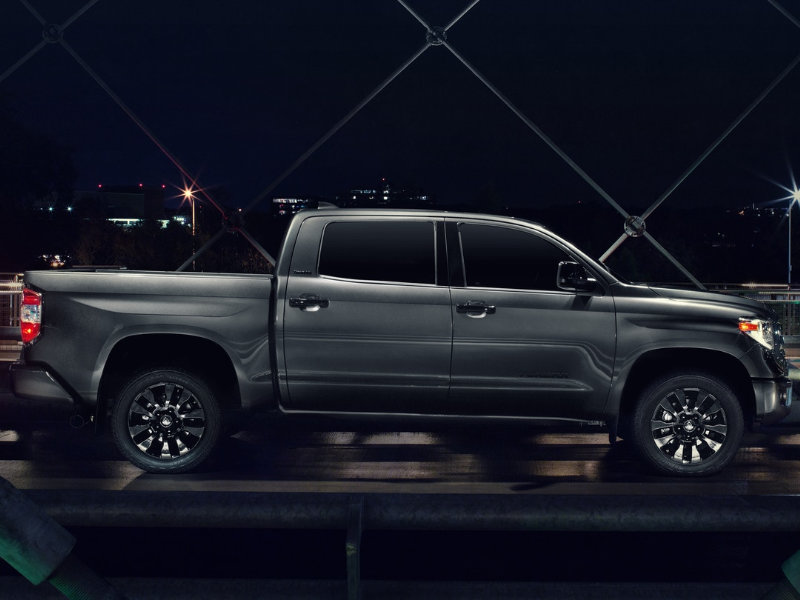 Interior – 2021 Toyota Tundra in Shreveport LA
Both Toyota Tundra 2021 and Chevrolet Silverado have enough space in their cabin to accommodate 4 or 5 people. The inside of the 2021 Toyota Tundra is well built with a unique type of extremely reliable plastic that doesn't break easily. It has comfortable and luxurious black tan- stitched seats. Regardless of the trims, the Toyota 2021 infotainment system features an 8- inch touchscreen, an Android Auto, Bluetooth connectivity, USB ports, HD Radio, 9- speakers audio system, and SiriusXM navigation. The infotainment system in the Silverado 1500 has different features depending on the trim. The 2020 Chevrolet Silverado' seats and floor mats are made of vinyl. The Toyota Tundra has an oblique interior storage options compared to its rivals.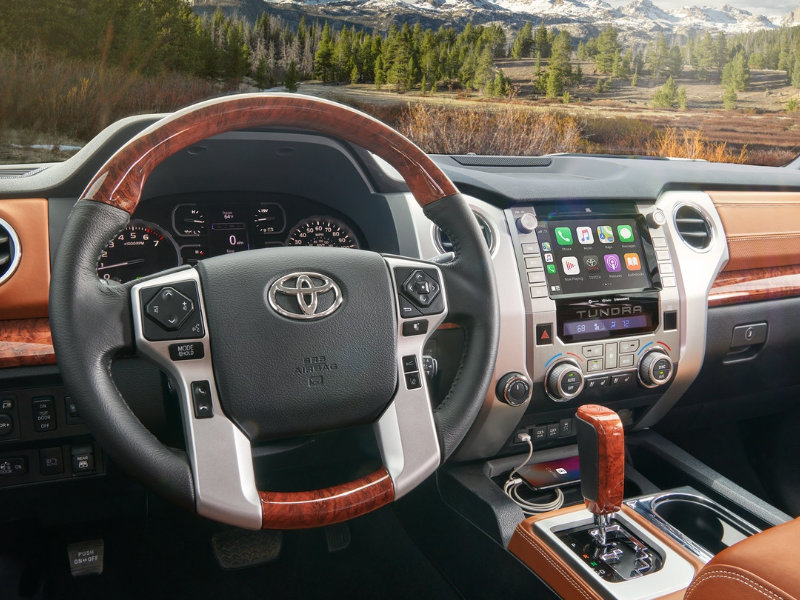 Mechanical – Tundra specs in Shreveport
Power is a crucial concern for every truck buyer. The Toyota Tundra packs a 5.7litre V8 engine producing 381hp and 400 lb-ft of torque, while the Silverado has a 4.3litre Eco-Tec V6 engine producing 285hp and 305lb-ft of torque. The Tundra's Four Wheel Drive has added electric traction control and a two-speed transfer case to enhance driving in slippery conditions. Both of these vehicles are All Wheel Drive hence have no off-roading problems. Both Toyota Tundra and Chevrolet Silverado use a six-speed automatic transmission with the Tundra doing up to 0-60mph in 6.4 seconds. The Tundra is a powerful vehicle able to tow 10200 pounds. The Chevy can tow 9700 pounds, which is more than satisfactory for its engine. There's no truck better at tackling challenging off-road conditions than the Tundra. The Chevy does a decent enough job off-roading, but its engine cannot match the Tundra's power. The Tundra brakes from 60mph at 134 feet.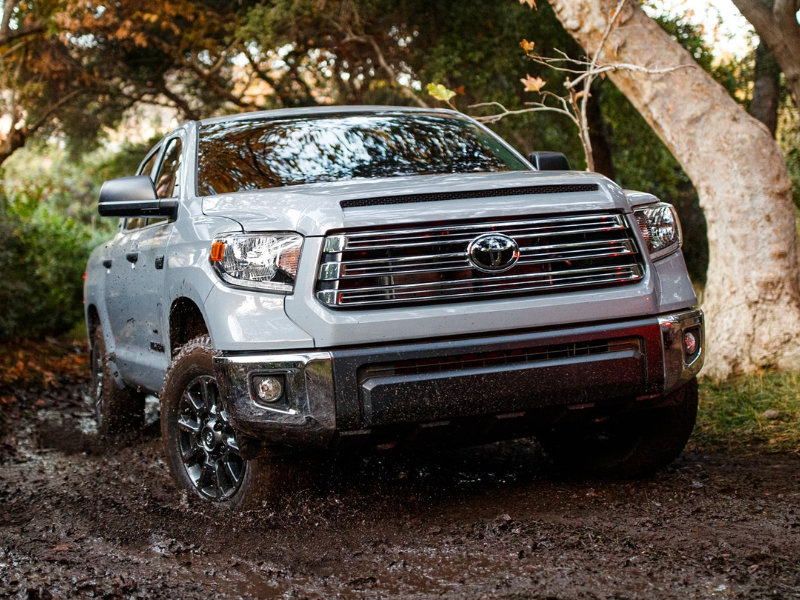 Safety – 2021 Toyota Tundra dealer
All Toyota Tundra trims have a standard safety sense system, which makes it easier to sense and avoid collision with other vehicles. The emergency braking system automatically activates when it senses danger making this truck come to a complete stop to avoid a catastrophe. Other security features in the Tundra include Electronic Stability Control, dual-stage driver, Airbags, Blind Spot Monitoring, back-up camera, emergency locking retractors, and tyre pressure monitoring system. The Chevrolet Silverado 2020 has standard security features in all trims but different advanced security features in each trim. Just like any other Toyota vehicle, the Tundra is reliable, and only a few break often.
The Toyota Tundra design is mouth-watering for a truck with its unique grill design and the name 'Toyota' engraved in block letters. The Chevy and Tundra are not small vehicles since they get noticed in whatever place they are driven. The Tundra's starting price is lower than its rivals and also the better value for your money. If you want a simple, old school pickup look, then the Tundra is the vehicle you should go for. The Tundra and Chevy offer various trims with upgrades as options allowing you to purchase according to your budget. Both trucks assure you of reliability and longevity, the two most important features for truck owners. Contact Yokem Toyota customer care support for further inquiries.