New Toyota 2021 Toyota Tacoma Lease and Specials in Shreveport LA Shreveport, LA l Near Bossier City
2021 Toyota Tacoma Lease and Specials in Shreveport LA
---

Toyota Tacoma Lease Specials and Finance Offers in Shreveport LA near Bossier City, Monroe
Why Lease or buy 2021 Toyota Tacoma in Shreveport LA
Rugged, reliable, and amazing for off-roading applications, the 2021 Toyota Tacoma is a well-rounded truck with plenty of modern functionality. It's loaded with driver-assistance technology and is a pleasure to drive! Drivers all over America are fans of the capable and sporty Tacoma. This practical mid-size pickup can make tackling rough trails more fun than ever before. Over the years, Toyota's Tacoma has consistently delivered a superior driving experience and dependable quality. This four-cylinder pickup has a V-6 engine with an automatic transmission. Additionally, 2021 Tacoma TRD models are particularly capable and skilled at playing in the mud or taking on rugged terrain types. As far as appearances go, the Tacoma has a sporty and charming look that's hard to turn down! Its interior is comfortable and loaded with updated tech.
*Not actual vehicle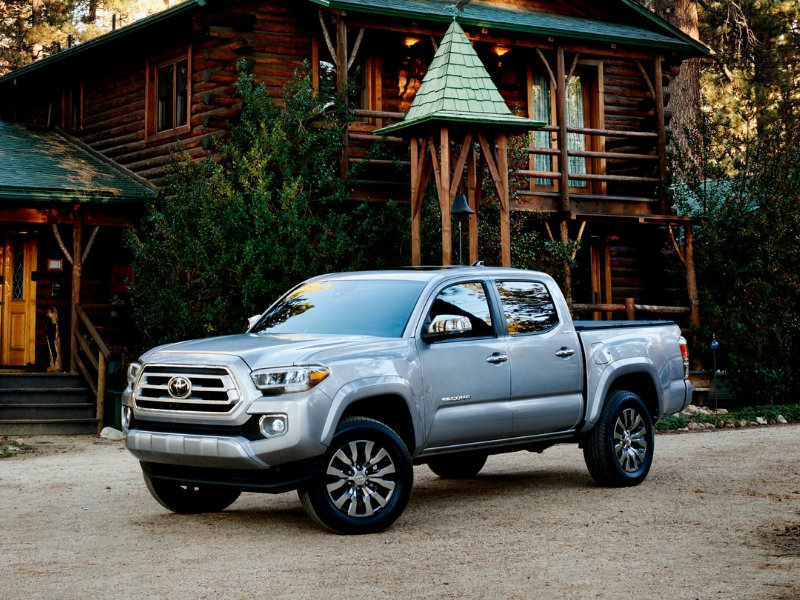 Exterior – Toyota Tacoma
On the exterior, the 2021 Tacoma has been updated and remastered for 2021. It now has a modern body with contoured lines and delicately angled LED headlights. A new grille and more ground clearance add to the 2021 Tacoma's ruggedly refined and innovative looks. You can also choose from an array of unique new Tacoma colors for 2021. If you love modern and chic tones that will look good anywhere and for years to come, the 2021 Tacoma's paint packages are sure to impress. The brand new Lunar Rock color goes great with any urban or outdoorsy backdrop. Then, there are an array of neutral tones that look great in town or on the trails. Choose from updated paint packages with colors like Magnetic Gray Metallic, Army Green, Cement, Midnight Black Metallic, Silver Sky Metallic, Super White, or Wind Chill Pearl.
*Not actual vehicle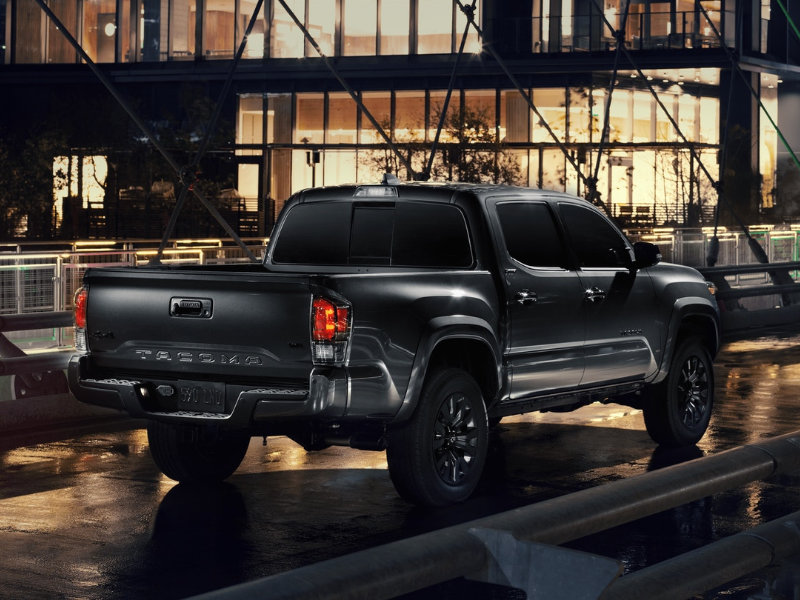 Interior – 2021 Toyota Tacoma
Inside the Toyota Tacoma's cabin, you'll notice an array of hard-wearing and durable materials. Many drivers appreciate the latest Toyota Tacoma's efficient use of interior space and ample headroom. This vehicle also comes with plenty of amenities and modern technology. With power-adjustable driver's seats and an extra-large crew cab available, you'll find that the interior of the Toyota Tacoma is well-balanced and comfortable. The 2021 Tacoma then comes with a large center console for additional storage.
*Not actual vehicle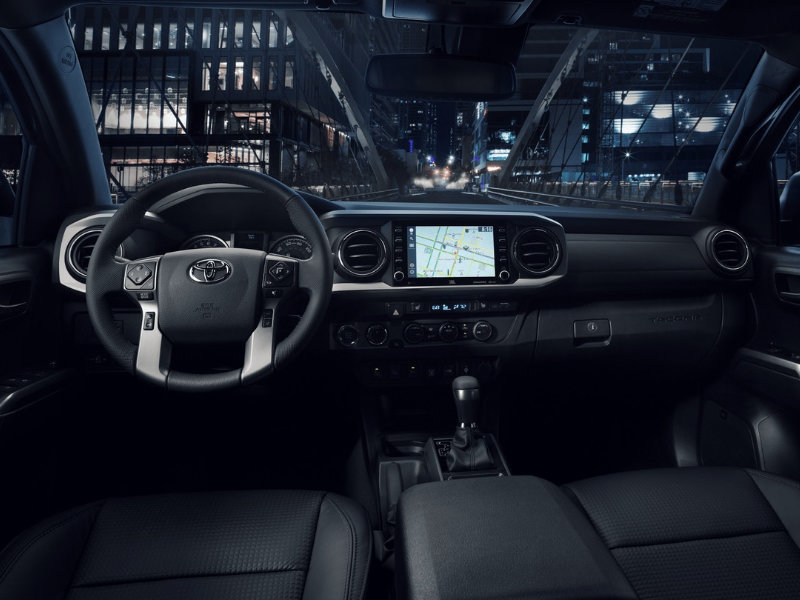 Mechanical – 2021 Toyota Tacoma
The 2021 Tacoma comes with an available V-6 engine that provides impressive performance and plenty of towing power. There is also a 4-cylinder Tacoma option available for 2021. This truck's 6-speed automatic transmission shifts smoothly and offers great overall performance. Then, a stick shift version is also available. When it comes to handling and mechanical capability, you'll find that the 2021 Tacoma doesn't disappoint. Then, the TRD Sport and Limited Tacoma models are very impressive for 2021. These models are amazing for both tackling the trails or city driving. For the best possible off-roading experience, the TRD Pro is ideal. The beefy lifted TRD Pro comes with impressive shock absorbers, gnarly tires, and plenty of other awesome off-roading features. Many 2021 Tacoma models are also good at towing and hauling. Drivers will enjoy the 1685-lb maximum payload capacity. The brawniest 2021 rear-wheel-drive Tacomas can then tow up to 6800-lbs. Alternatively, four-wheel-drive models can pull up to 6500-lbs. Since the 2021 Tacoma's performance will depend on which model you opt for, there's really a Tacoma for everyone's driving needs.
*Not actual vehicle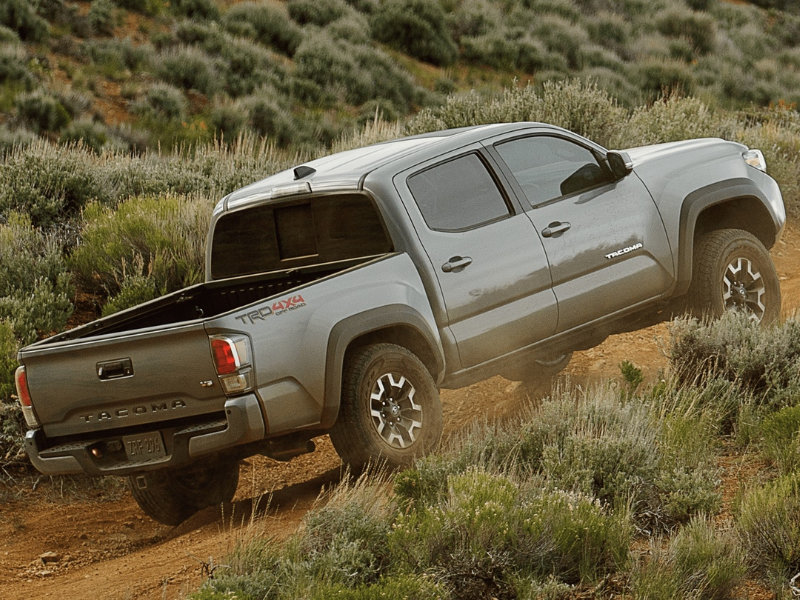 Technology & Safety – 2021 Toyota Tacoma
For 2021, every single Toyota Tacoma now comes with an integrated infotainment system. This large infotainment system features a 7.0-inch display touch screen. The higher up you go in trim levels, the larger the touchscreen gets. All Tacomas also come with Apple CarPlay, Android Auto, and more. You can also opt for trims with several USB ports and wireless charging. Then, when it comes to safety and driver-assistance features, the Toyota Tacoma truly excels. It has more standard driver-assistance features than any other vehicle and its respective class. Key standard safety features for 2021 include adaptive cruise control, lane departure warnings, forward collision warnings, and automated emergency braking. Suffice to say, the 2021 Tacoma is loaded with technology and safety amenities!
Request 2021 Toyota Tacoma Specials in Shreveport near Bossier City, Monroe LA
Are you ready to come and take a test drive in one of the latest Toyota Tacomas? If so, we are happy to help you out. At our dealership, we have an array of stunning 2021 Tacomas available for you to look at! To learn more or to hear about our Yokem Toyota specials, call today!