New Toyota 2021 Toyota 4Runner vs 2020 Toyota 4Runner in Shreveport for Sale in Shreveport, LA l Near Bossier City, Texarkana
2021 Toyota 4Runner vs 2020 Toyota 4Runner in Shreveport
View Inventory


Toyota has a lot of smaller, spry SUVs, but that doesn't mean they don't know how to go big when the need arises. The 2021 4Runner is one such example of Toyota completely taking over the full-size SUV category in a big way. In fact, their new front grille design is probably one of the most inventive, fascinating front grilles we've seen in this genre. Yokem Toyota invites you to explore the 2021 Toyota 4Runner vs 2020 Toyota 4Runner in Shreveport. It's a brand new year for the brand, and it's daredevil spirit is chiseled right into the design.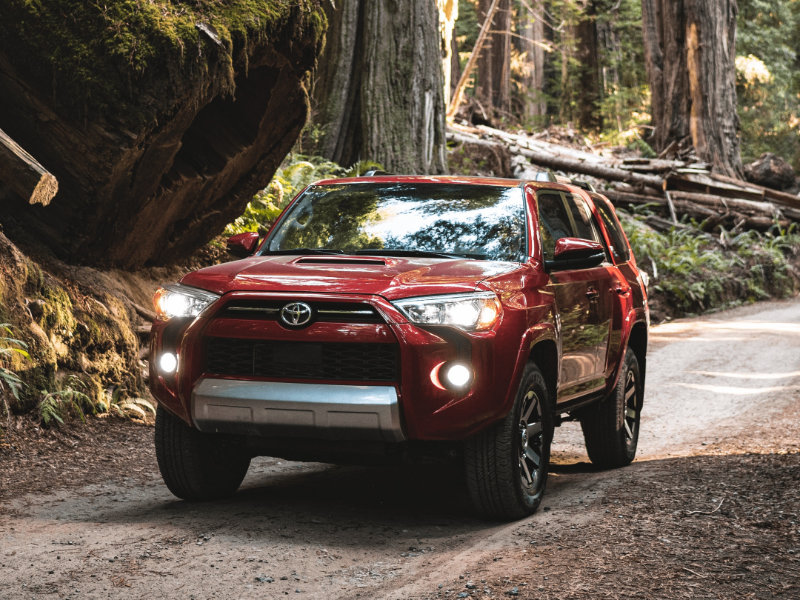 Exterior – Toyota Dealer serving Shreveport LA
You can't really compare the 2021 Toyota 4Runner vs 2020 Toyota 4Runner in Shreveport without taking a close look at the new grille. The 2020 model was the forerunner of the 2021 4Runner grille, and you can see traces of the new model there. However, nothing could have quite prepared anyone for the excitement when this new model was first viewed. Toyota took the grille and made it more of a background setting for a very prominent nose. It's a unique look that will appeal to a lot of customers at Yokem Toyota. Brand new colors like Nautical Blue Metallic, Cement, and Lunar Rock really emphasize the new grille. It comes blacked out on some models, while it sports more chrome on others. Pay close attention to your trim lineup. That will determine your grille look.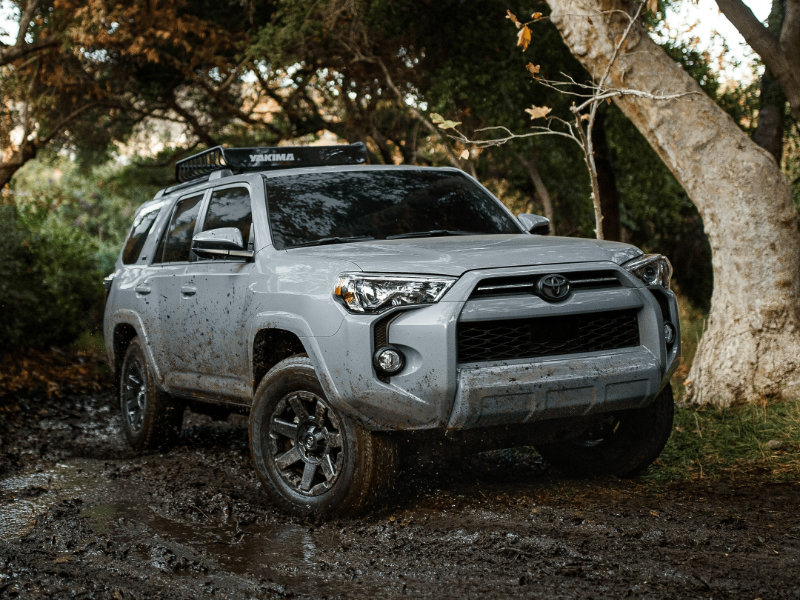 The Trail Edition sports a nice array of unique interior features in 2021. For example, you'll appreciate the all black seating with tan stitching sewn throughout. A new power moonroof is definitely going to set the mood for many of your off-road and on-road adventures. It's perfect for opening up some fresh air to your crew, or simply letting the beautiful sunshine rain down inside your 4Runner. The interior is also a lot nicer in 2021. You'll get an SR5 with 8-way power adjustable driver's seat, optional under-floor cargo area, and a leather-trimmed steering wheel. Perforated leather seating is available on more than one row as well, even all the way to the 50/50 split fold flat third row seat.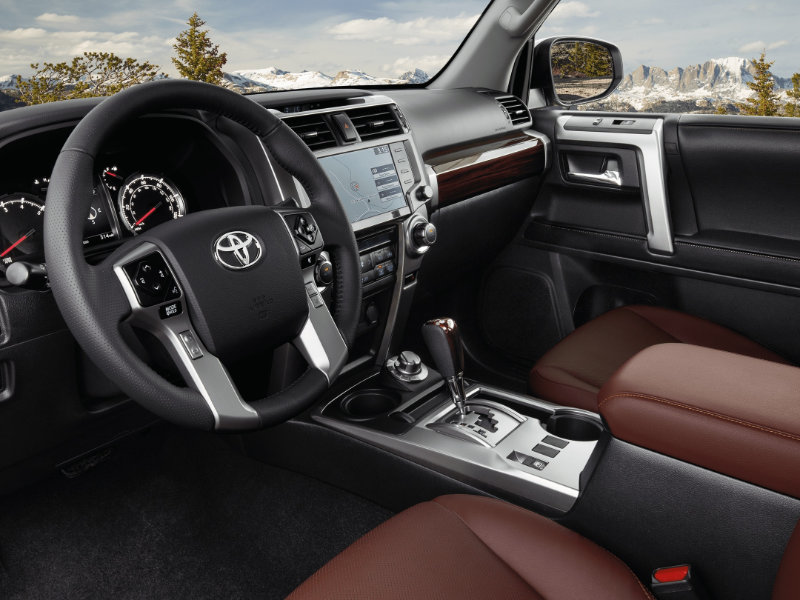 Toyota 4Runner Mechanical specs
The new 4Runner is serving Shreveport Bossier City Texarkana off-road fans with a few good reasons to ditch the competition. The horsepower on the new model stays stable: 270 horsepower via a 4.0L V6 engine. This is combined with a 5-speed electronically controlled transmission that feels a lot more responsive in 2021. They seem to have tweaked a few things about the mechanical system that makes it a lot smoother. However, the real news is on upgraded and less expensive off-road features. Features like Active Traction Control, Multi-Terrain Select, Crawl Control, and a Kinetic Dynamic Suspension System all combine together to give you one of the greatest off-road lineups of the year.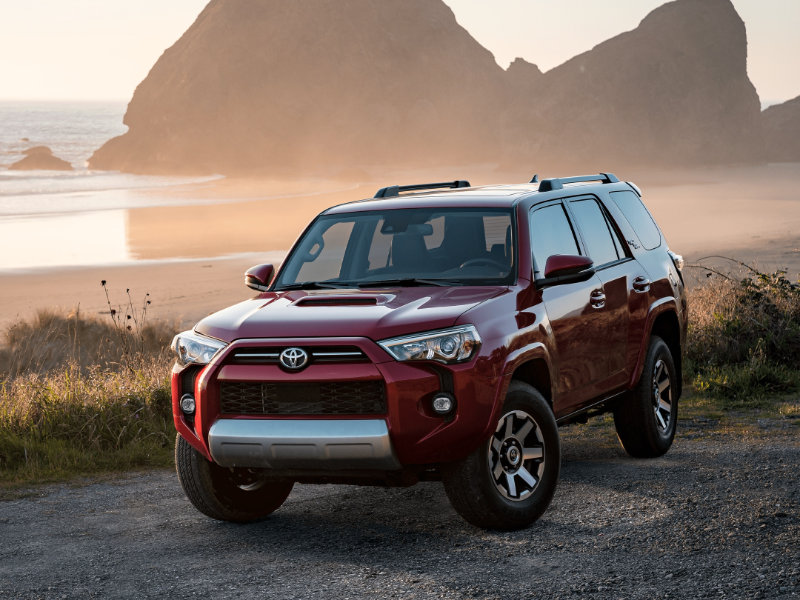 Powertrain- Toyota Dealership in Shreveport LA
Towing is another reason you might want to buy a 4Runner this year. The 2021 4Runner can tow a huge 5,000 pounds, making it the ideal choice for anyone who has heavy toys like campers, boats, or ATVs. This one is going to come with an integrated towing receiver hitch and wiring harness, too, so they've set you up with your towing apparatus and a few other high-tech towing apps that will help make your trailering life easier in 2021. The 2020 model definitely had some towing talents, too, but the 2021 model is better.
Safety – 2021 Toyota 4Runner dealer
We were pleased to see that Toyota Safety Sense is standard on the 4Runner this year. You'll benefit from features like Pedestrian Detection, a system that can sense when a pedestrian is in the path of or behind your 4Runner. When your system picks up that a pedestrian is in the vicinity, it can avoid a tragedy by braving automatically. A nice standard 8-airbag system is above and beyond what the automotive industry calls for. The extra airbags are greater peace of mind for many drivers out there. And you'll always feel safe and secure on the road thanks to Star Safety System, a returning technology that gives you anti-lock brakes, Vehicle Stability Control, and Smart Stop Technology, among many other features. The 2021 4Runner even gets front and rear parking assist sonar.
The 4Runner is one of the least expensive 4X4 Off-road systems in the world. Don't miss out on your chance to enjoy a more elaborately dressed 4Runner in 2021. Call Yokem today to learn more about trims or to schedule an adventurous test drive with our sales team, now serving Shreveport Bossier City Texarkana with tons of sales!