New Toyota 2020 Toyota Tundra vs 2020 Ford F-150 Shreveport, LA l Near Bossier City
2020 Toyota Tundra vs 2020 Ford F-150
View Inventory


2020 Toyota Tundra vs 2020 Ford F-150
What does it mean to be a better truck? Is it quality or capability? Value or pricetag? In this comparison of the 2020 Toyota Tundra vs 2020 Ford F-150, we think you'll discover how the Tundra is simply a better value. It delivers quality and capability without asking you to compromise on either one.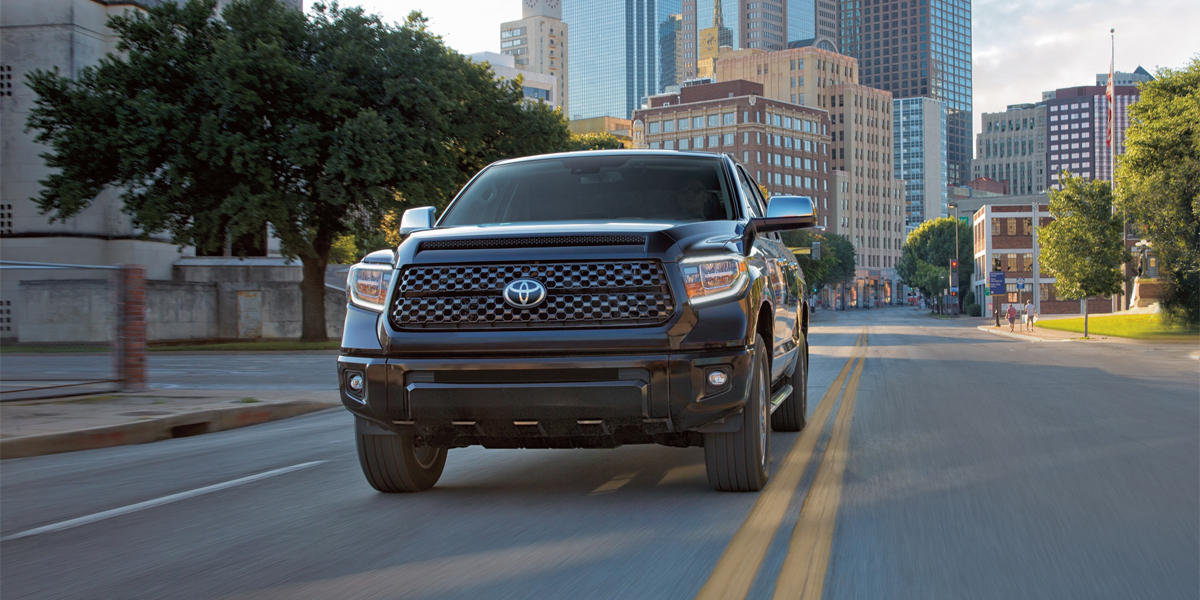 Value Is Real – 2020 Toyota Tundra
When it comes to resale values, the Tundra moves to the front of the class year after year. Is the value real this year? Well, the basic 2020 Toyota Tundra pricetag nets you more capability than the 2019 Ford F-150. A buyer will find value just in that. However, the Tundra also has more dash technology, more basic safety features, and more driver assistant features than the Ford. If you can get these features on the Ford, you will pay a higher price for it. Let's look at how value can be determined in this match-up of the 2020 Toyota Tundra vs 2020 Ford F-150.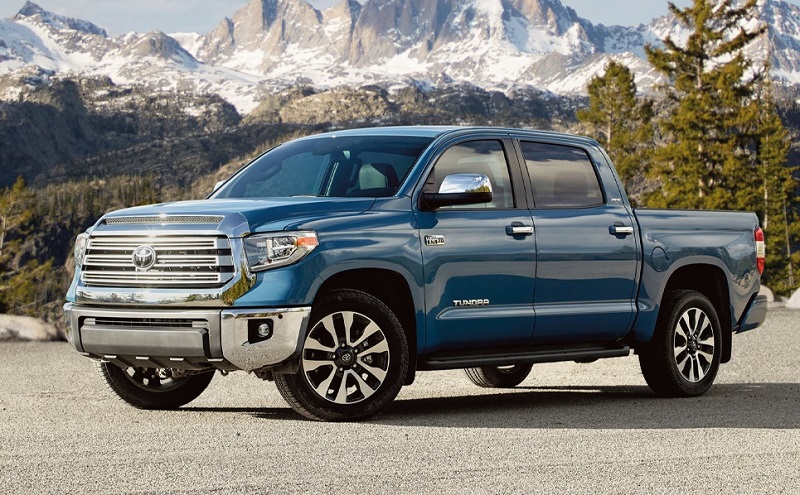 Capability is King – 2020 Toyota Tundra
Your truck purchase should net you the best possible capability for the money, and that's exactly what you get from Toyota. The truckmaker has one powerful V8 engine, and it's standard even for the lowest price. This iForce V8 generates 381 horsepower and 401 pound-feet of torque. It can tow over 10,000 pounds. For trade or business use, you are getting capability and affordability. On the other hand, the entry level 2020 Ford F-150 has a 290-horsepower V6. It generates 265 pound-feet of torque. Tow ratings are 7,700 pounds. Sure, you can pay more for a Ford with a more capable engine. However, Toyota lets you either save that money or put the money toward a higher trim level.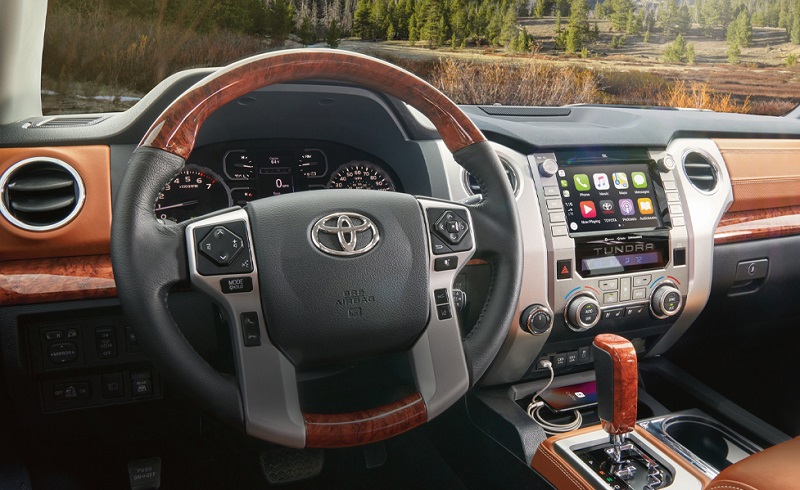 There are other examples which show the Tundra's readiness to work. For one thing, it has 10 or 10.4 inches of ground clearance. The F-150 brochure lists ground clearance at 8.5, 9.3 or 9.4 inches. Only the F-150 Raptor has more clearance than the entry-level Tundra. Both trucks come in rear wheel drive. However, Toyota engineers thought ahead to the challenges that the truck will face. So they equip every Tundra with an automatic limited slip system. This improves travel whether it's on a wet road or a gravel path.
Some things are certainly a matter of preference, but Toyota Tundra owners will tell you that the TRD Off-Road and TRD Pro are serious off-road contenders. Each type has skid plates, special suspensions, and high-end shocks. These trucks can take you far into the wilderness. You can certainly pay the high asking price for an F-150 Raptor, but a TRD Off-Road or TRD Pro is probably all you need for real adventure.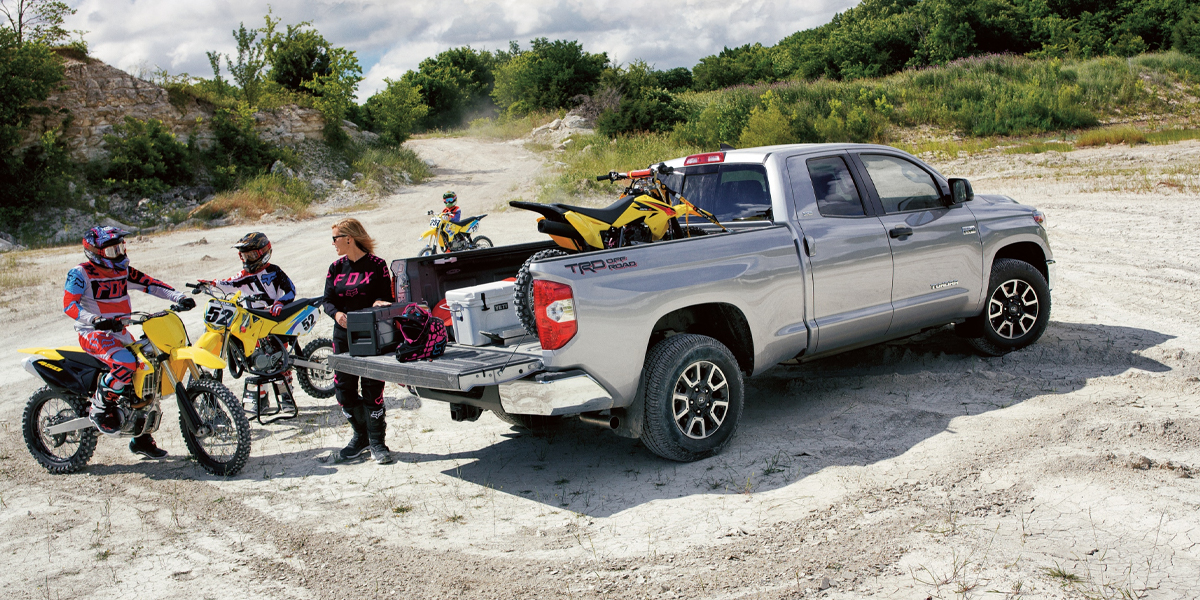 Modern Entertainment isn't an Extra – 2020 Toyota Tundra
Toyota puts the Entune system on every Tundra. You don't have to buy a package or choose a higher trim level, unless you want more. Entune allows you to stream music and take phone calls via Bluetooth audio. The seven-inch touch screen includes Amazon Alexa compatibility, Android Auto connectivity, and Apple CarPlay connectivity. Ford offers a basic screen with its Bluetooth audio system. If you want the features that are already standard on Tundra, you will have to add them for an extra price or go up to a higher trim level.
Extra Safety Never Hurt – 2020 Toyota Tundra dealer
The Tundra has more basic safety features than the Ford F-150. Toyota has packed the cabin with eight airbags. That's two more than you'll find on the Ford. The two trucks have warnings for a possible rear-end collision or a pedestrian. However, only Toyota has a standard lane watch system to warn you if the vehicle moves out of its lane. In another example, Toyota doesn't charge extra for an integrated brake controller. You will need to step up to get this feature on the F-150. Also, Toyota has a no-cost maintenance plan that includes roadside assistance, should it be needed. If you have questions, our online staff at Yokem Toyota can explain more about this Tundra advantage.
Driver Assistance Reduces Stress Levels
The 2020 Toyota Tundra and the 2020 Ford F-150 come with an automatic emergency braking system to respond to certain dangers. Both have automatic high beams for easier nighttime travel. However, only the Tundra has a lane assist mechanism to help straighten the truck up in its lane. Furthermore, Toyota equips every Tundra driver with Dynamic Radar Cruise Control. This system can reduce the truck's speed to match traffic or even stop if necessary. You can get these features on a Ford in Shreveport Louisiana, but you must pay more.
Luxurious Cabins on Tap
If your criteria is luxury, both brands are offering high end cabins in Shreveport Louisiana. Toyota has the affordable-but-fancy Limited, the western-themed 1794, the classy Platinum and the thrill-seeking TRD Pro. With one more top trim than Toyota, Ford has Lariat, King Ranch, Platinum, Limited, and Raptor choices. You will have to be the judge of which is best. However, we can promise that Toyota craftsmanship and quality materials guarantee that their cabins are made to the highest standards of skill and design.
There's much more to unpack about the 2020 Toyota Tundra and the 2020 Ford F-150. However, the best way to learn is to take a test drive of the Tundra at Yokem Toyota in Shreveport Louisiana. Our knowledgeable online staff can tell you now about the latest specials.