New Toyota 2020 Toyota Tundra Lease and Specials near Bossier City LA Shreveport, LA l Near Bossier City
2020 Toyota Tundra Lease and Specials near Bossier City LA
---

Toyota Tundra Lease Specials and Finance Offers in Shreveport LA near Ruston, Bossier City
Why Lease or buy 2020 Toyota Tundra near Bossier City LA
Most folks know the 2020 Toyota Tundra near Bossier City as a pickup truck that's still standing after other pickup trucks have been retired to junkyards. The Tundra never stops working. If you see one on the road in 2020, you can bet you'll see that same truck out there still working 20 years from now, albeit a little more long in the tooth. These reliable trucks are a staple of the Toyota brand, serving Bossier City Louisiana with their unique philosophy of pickup truck design and gritty off-road performance (in the form of the TRD Pro trim). Yokem Toyota specials are available to help you grab that TRD Pro of any other trim that catches your eye.
*Not actual vehicle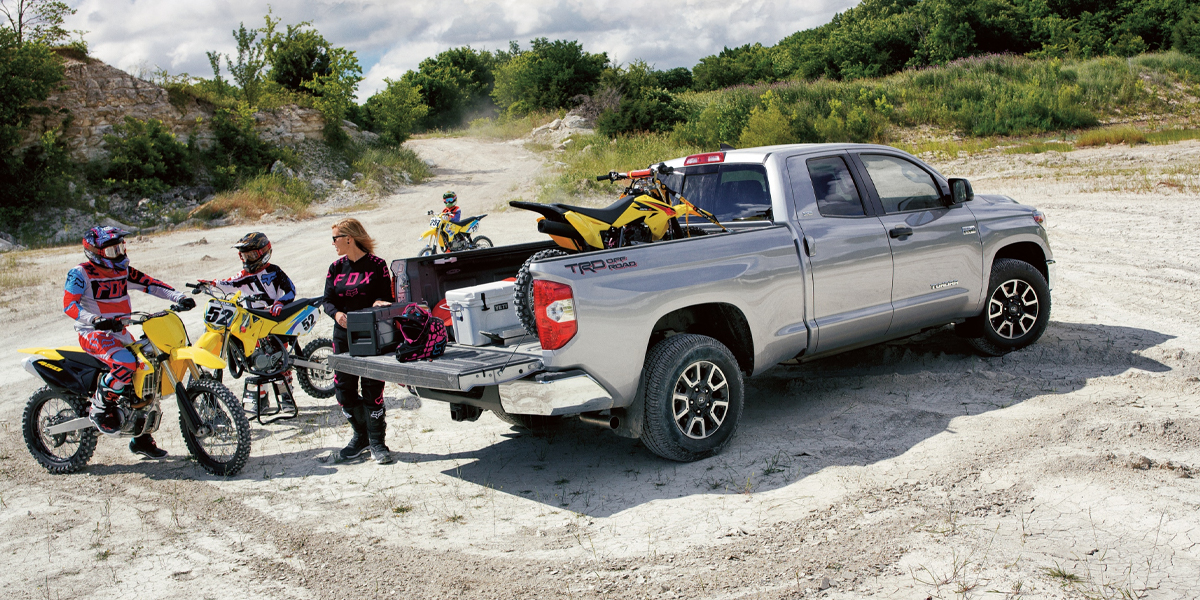 Exterior – Toyota Tundra
Your Tundra starts out with Halogen headlamps, but after the first two trims, it's LED headlamps across the board for every other model. The sleek headlights of the off-road equipped TRD Pro are especially eye-catching. Your 2020 Toyota Tundra gets two wheelbases: a 164.6 wheelbase and a 145.7 inch wheelbase. The larger has an extended truck bed for greatly utility, and the other grabs a larger cabin. It's up to you as to which one is more useful. Choose from beautiful colors on your 2020 Toyota Tundra near Bossier City, including Cavalry Blue, Super White, and Quicksand. The Tundra has always enjoy outdoorsy, understated colors that don't detract from the very muscular build of the truck.
*Not actual vehicle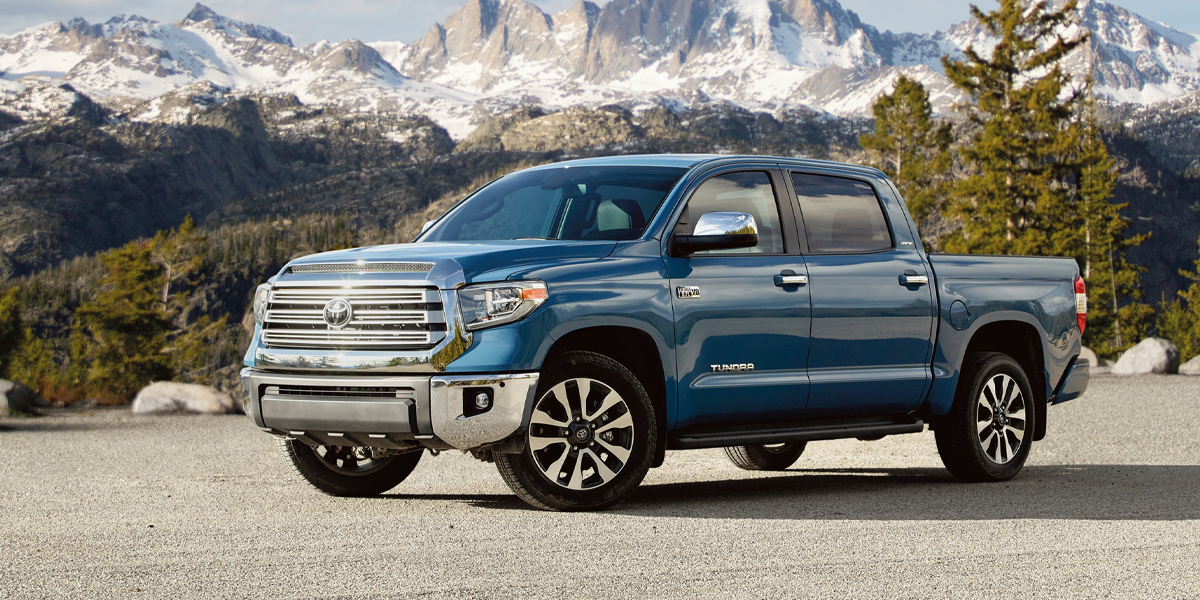 Interior – 2020 Toyota Tundra
Toyota is serving Bossier City Louisiana with a tremendous interior on the Tundra. The 1794 is done up to the hilt, with real wood throughout the cabin to go along with luxurious leather-trimmed seating with premium accent seating. You'll find your cabin colors are also alive with the colors of the outdoors and sophisticated color options that really make for a rugged but elegant interior. The crew cab variation has seating for up to 6 people, leaving you plenty of room! And taller passengers will be thankful for the increased headroom. Yokem Toyota specials will help you grab extra amenities on your Tundra or upgrade to a higher trim where they're standard.
*Not actual vehicle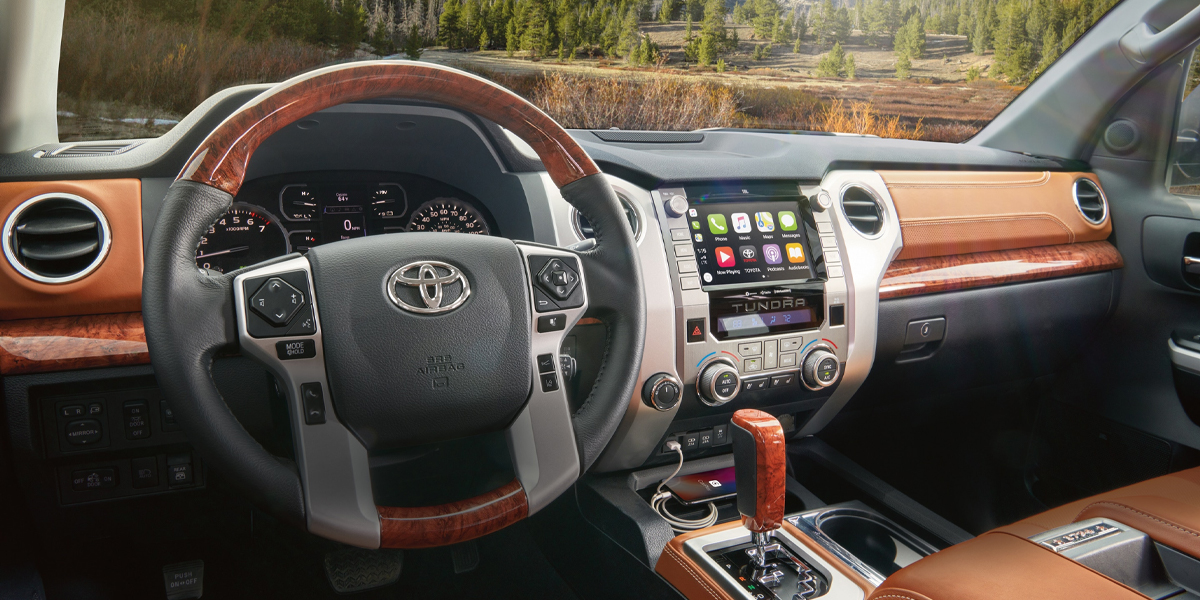 Mechanical – 2020 Toyota Tundra
Toyota is serving Bossier City Louisiana with a super powerful powertrain on the Tundra. It's geared up and ready to go to work for you. A 5.7-liter V8 gas engine gears up for duty this year and distributes 381 horsepower and 401 lb-ft of torque. Toyota's 6-speed automatic engine is one of the quietest and most efficient in the business for a pickup truck, so you'll never lack for that extra kick to get you started, even if you're facing a particularly intimidating hill or bout of mud. The off-road suspension systems and equipment of the TRD Pro are the trim you need to look for if you're a serious off-roader. While every Tundra can get dirty and play in the mud, it's the off-road TRD Pro that really shines and gives you top grade off-road experiences.
*Not actual vehicle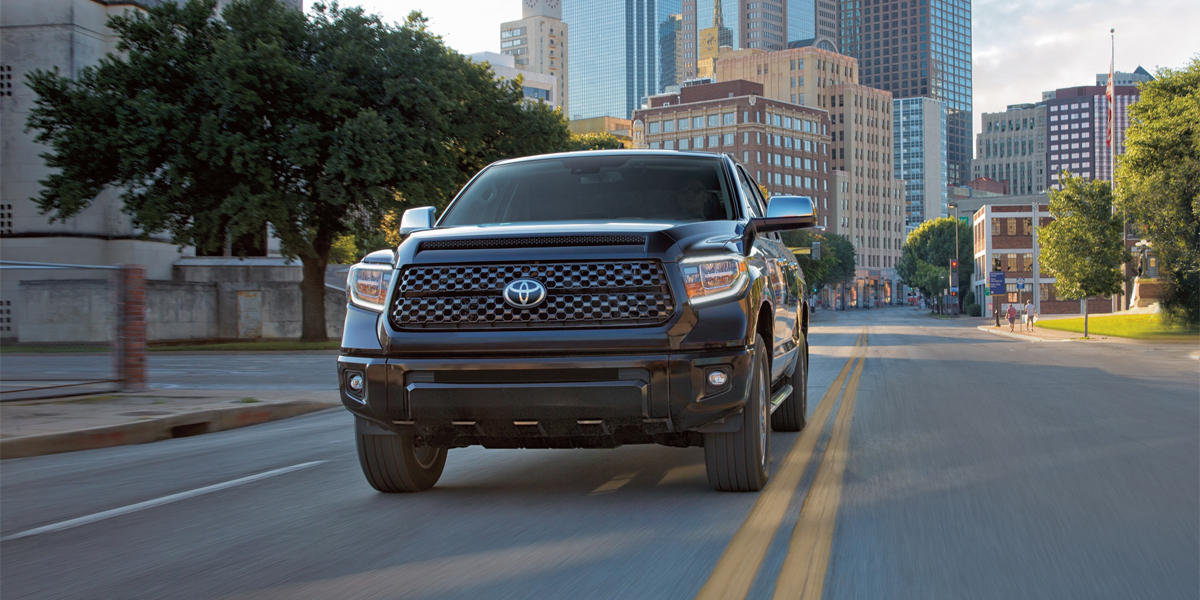 Technology & Safety – 2020 Toyota Tundra
Finally, the Tundra is finally catching up with the times in terms of technology. This year's Tundra gets an 8-inch Entune infotainment system that's pleasantly easy to use, even for those who aren't all that familiar with the modern touchscreen systems in pickups. You can still benefit from the simplicity of Entune and really enjoy its easy to use features that work with Apple CarPlay and Android Auto. And you'll love the 9-12 speaker premium audio system setups that really let you enjoy good music in your Tundra.
The Tundra's safety profile has always been impressive, but it's even moreso this year! Pre-collision systems are in place with pedestrian detection active as well, giving you a way to keep everyone around your Tundra safe, too. Blind spot monitoring has been especially helpful on larger pickup trucks, even in ones with excellent visibility already like the Tundra. Then there is the solid, big and sturdy build of the Tundra that provides a lot of protection in the event of a crash, although with driver-assist features standard this year, there's going to be a safer feeling than ever before inside the Tundra.
Request 2020 Toyota Tundra Specials in Shreveport near Ruston, Bossier City LA
The new Tundra is finally here at our Bossier City dealership! We're welcoming it with open arms and hope you will do the same. If you're ready for a test drive of this rugged, bold pickup truck, we want you to be one of the first to test drive this one! It's big, it's a boss, and it could be all yours today. When you use our specials, you might even take home the TRD Pro! Ask to see it when you come in. Thanks for considering us for your Toyota Tundra. We hope to see you soon.