New Toyota 2020 Toyota Camry vs 2020 Ford Fusion Shreveport, LA l Near Bossier City
2020 Toyota Camry vs 2020 Ford Fusion
View Inventory


2020 Toyota Camry vs 2020 Ford Fusion
Sedan shoppers are sure to compare the 2020 Toyota Camry vs 2020 Ford Fusion. How does the new Camry compare to the new Fusion? Has anything major changed this year that would make the Fusion a better buy? Let's see how these competitors are doing.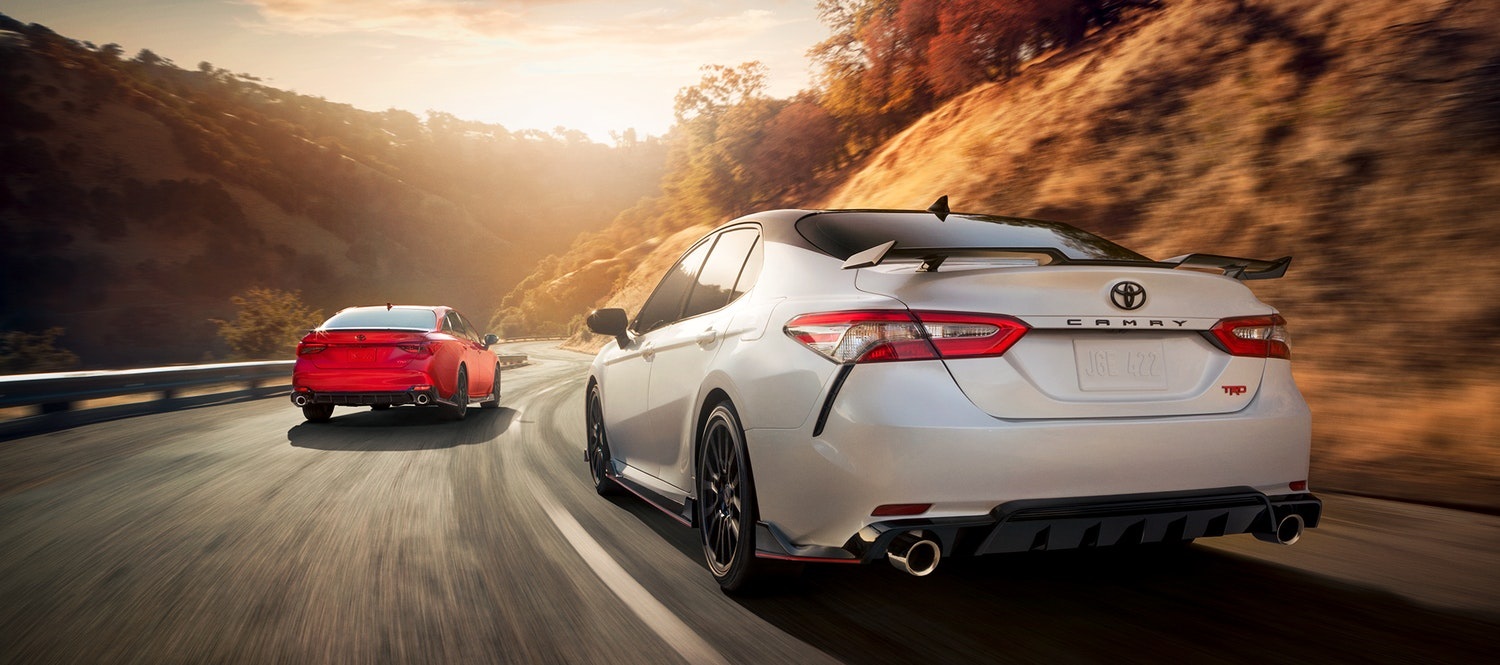 Popularity – 2020 Toyota Camry
The Toyota Camry has been the top-selling car in the United States for decades. It keeps updating and changing with the times. It was one of the first sedans to come in a hybrid edition. It was one of the first to add a standard infotainment system with a screen and apps. Likewise, it was one of the first to have a standard rearview camera. The Fusion is one of the last cars that Ford intends to make. It has had a long run, and it has introduced a hybrid version of its own.
U.S. News and World Report, which ranks vehicles based on a survey of automotive journalism as well as its own testing, once again ranks the Camry at number one for large sedans. In this class of more than 10, the 2020 Ford Fusion ranks number 8. It's the biggest deficit, according to U.S. News, which is its disappointing Sync interface, lackluster performance, and average fuel economy. The 2020 Toyota Camry is praised for its good fuel economy, a long list of standards, and engaging rid. J.D. Power reliability ratings are above average (4 out of 5) for the Camry and average (3/5) for the Fusion.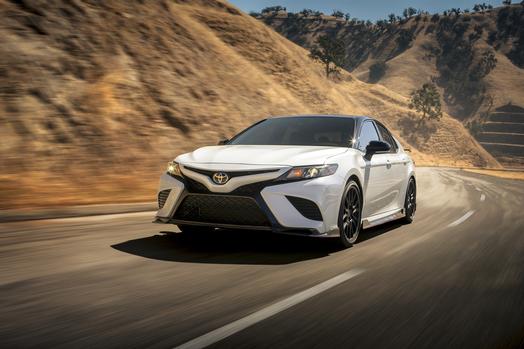 New for 2020 – 2020 Toyota Camry
Toyota has been making improvements since 2018. There are more engine choices and a highly capable eight-speed automatic that make the 2020 Toyota Camry quite competitive. Dash technology has been expanded with the addition of Android Auto. For 2020, Ford has made driver assistance standard, coming in line with Toyota. It has discontinued the V6 Sport edition.
The 2020 Camry's biggest change is a new TRD model. If you love to drive, this racier edition is for you. A lower drive height is matched with retuned dampers and stiffer springs. Greater toughness is achieved with thicker anti-roll bars, better chassis bracing, bigger front brake rotors, and dual-piston calipers. The car sounds the part with its TRD exhaust system. It looks the part with aerodynamic body alterations on the outside and racy red trim elements in the cabin.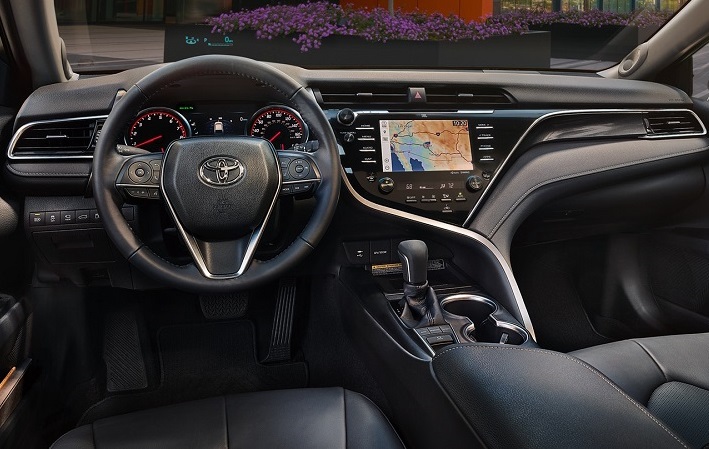 Powertrains and Fuel Economy – Camry specs
The Ford Fusion powertrain generates 175 horsepower and 175 pound-feet of torque. It averages 21 miles per gallon in the city, which doesn't compare favorably with 29 miles per gallon for the Camry. It averages 31 miles per gallon on the highway, which is significantly less than 41 miles per gallon for the Camry. Does this make a difference in your budget? According to the Department of Energy fuel calculator, the Camry saves $1,500 over five years when compared to the Fusion.
If one is to fairly evaluate the 2020 Toyota Camry vs 2020 Ford Fusion, it is fair to ask: is the Camry is underpowered? The answer is no. In typical Toyota fashion, the engineers have made sure that the sedan has the excellent capability. The output is rated at 203 horsepower, a 28-horsepower difference. Rated for 184 pound-feet of torque, the Camry has a 9 pound-feet advantage over the fusion. The eight-speed Toyota transmission has two more gears than the Ford six-speed.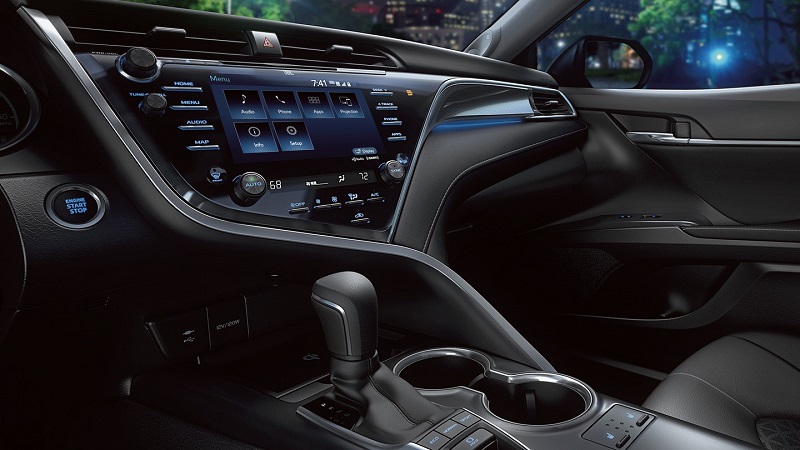 Dash Tech Standards – 2020 Toyota Camry
Toyota has a standard 7-inch touch screen and an available Wi-Fi hotspot. In addition to Entune apps, drivers have greater phone access via either Android Auto or Apple CarPlay. Bluetooth, Siri Eyes Free, a USB port, and satellite radio capability are on board. You can step up to a bigger touch screen with HD radio and more USB ports.
The 2020 Ford Fusion has a standard 4.2-inch LCD screen. This coordinates Bluetooth streaming audio via the Sync system. You can step up to a higher edition to get a full touch screen. In other words, you will be paying more to get Android and Apple advanced capability, if you choose the Fusion.
Safety and Driver Assistance – 2020 Toyota Camry dealer
Toyota keeps adding to its suite of driver assistance systems. Now you get road sign assist to notify you about speed limit changes and other warnings. Adaptive cruise control is a radar-enhanced system that takes away part of a driver's burden in busy traffic. A pedestrian watch triggers an autobrake. So does a forward collision warning. A lane departure alert can trigger a lane assist. The staff at Yokem Toyota can tell you more online or in person.
Ford has made many of these same systems standard. However, it does not offer a road sign assist. It also doesn't have standard adaptive cruise control. To get that important aid, 2020 Ford Fusion shoppers in Shreveport Louisiana will have to pay more.
Price and Value
The Camry starts off a few hundred more than the Escape. However, as many have noted, Camrys have more standards than the average sedan. This makes it a better value than the Escape from the beginning. As previously stated, you would have to pay more to get valuable standards such as a full touch screen and adaptive cruise control. Better fuel economy and higher reliability ratings also indicate that Camry ownership is less expensive in the long run. Furthermore, only Toyota offers two years of complimentary maintenance.
You can see the 2020 Toyota Camry and judge its qualities for yourself. Yokem Toyota is your destination for a Camry test drive in Shreveport Louisiana.