New Toyota 2020 Toyota GR Supra Lease and Specials near Bossier City LA Shreveport, LA l Near Bossier City
2020 Toyota GR Supra Lease and Specials near Bossier City LA
---

Toyota GR Supra Lease Specials and Finance Offers in Shreveport LA near Bossier City
Why Lease or buy 2020 Toyota GR Supra near Bossier City LA
The smooth, heartracing performance of the 2020 Toytota GR Supra promises to inspire a new generation of thrill seekers to achieve their life's greatest adventures. Sometimes you don't just want to own a car. You want it to own you, too, with everything that's "car" about it. And to most people, cars mean speed, adventure, and freedom. Your 2020 Toyota GR Supra near Bossier City roars into our collection this year where we're serving Bossier City Louisiana customers outstanding Yokem Toyota specials that can help you make the GR Supra a part of your permanent collection.
*Not actual vehicle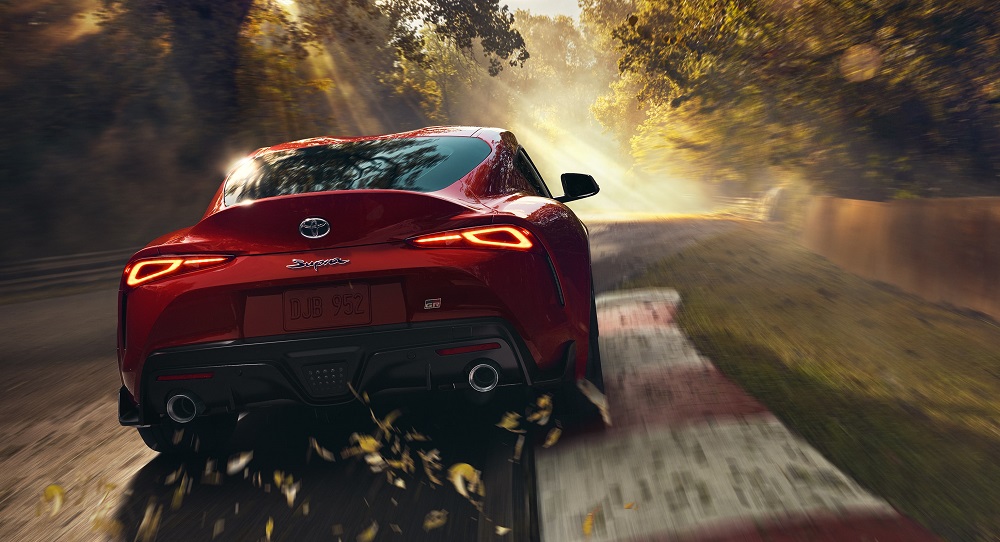 Exterior – Toyota GR Supra
Perhaps the most fascinating thing about the 2020 Toyota GR Supra near Bossier City is its unique line of high-performance color schemes. Where else are you going to get a menu of colors like Absolute Zero (Launch Edition), Nocturnal (Launch Edition), and Turbulence Gray. We assure you that the sports car body of the GR Supra is in a class by itself as well. You'll love the way this vehicle looks almost like a wave in motion, showing off its designer's ambitious mission in one vehicle. We'd like to point out that it's mission accomplished. The jewel-like LED headlights are pristine.
*Not actual vehicle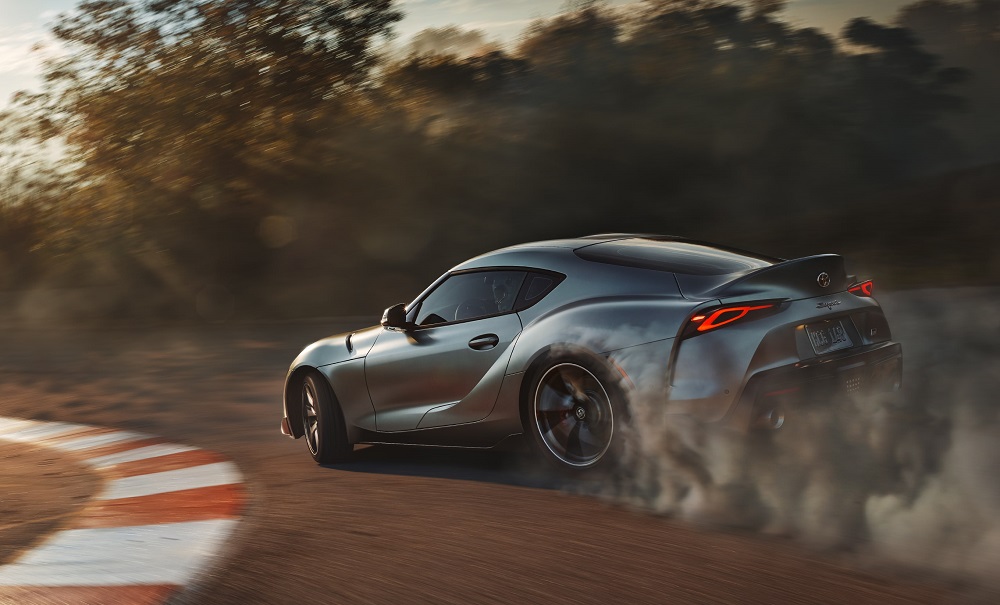 Interior – 2020 Toyota GR Supra
The cockpit of the 2020 Toyota GR Supra is designed specifically with the thrill of driving in mind. You even get side-mounted knee padding to keep you safely in place while you're driving this one at high-performance speeds. Another nice touch are the sports seats that feature 14-way power adjustable positions for the driver to choose from. The entire driving experience depends on the driver. Toyota knows that better than anyone. Knowing your instrumentation is solid is another important component of driving. The 8.8″ high-res instrument cluster is as high tech as it gets for any sports car, Toyota or otherwise. It even shows what entertainment you have going on at any given time. A Supra command dial puts all your entertainment in one place. The 3.0 Premium has a dial featuring carbon-fiber accents for an alluring appeal. The trunk's 10 cubic feet of storage space gives you the kind of area you need to race out at any time with all your gear in tow. Obviously, with any type of sport seating, you're going to get premium leather options as well. It's a luxury car with a sporty slant.
*Not actual vehicle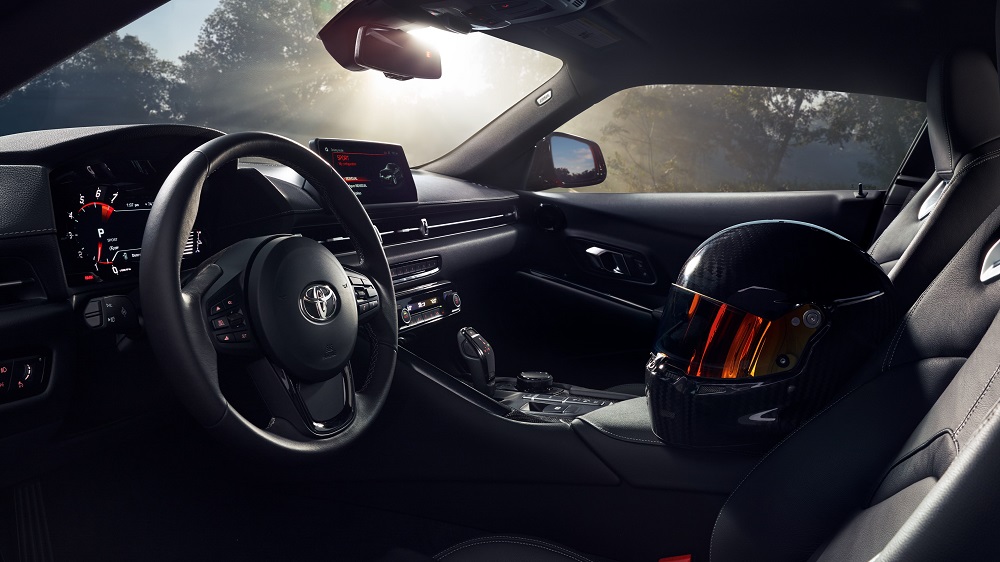 Mechanical – 2020 Toyota GR Supra
The 8-speed automatic transmission (called the ZF 8HP) is one of the most intriguing features of the GR Supra's driving experience. Remember that most transmissions, you just rattle off what their speed is. With the GR Supra, everything on this vehicle is built with racing in mind. It's placed in the vehicle in a position that maximizes its center of gravity and allows for a tremendous horsepower-transmission combo of 365 lbs-ft of torque. The engine is a 3.0 turbocharged I6 engine, featuring 335 horsepower. It has a twin-scroll turbocharger.
*Not actual vehicle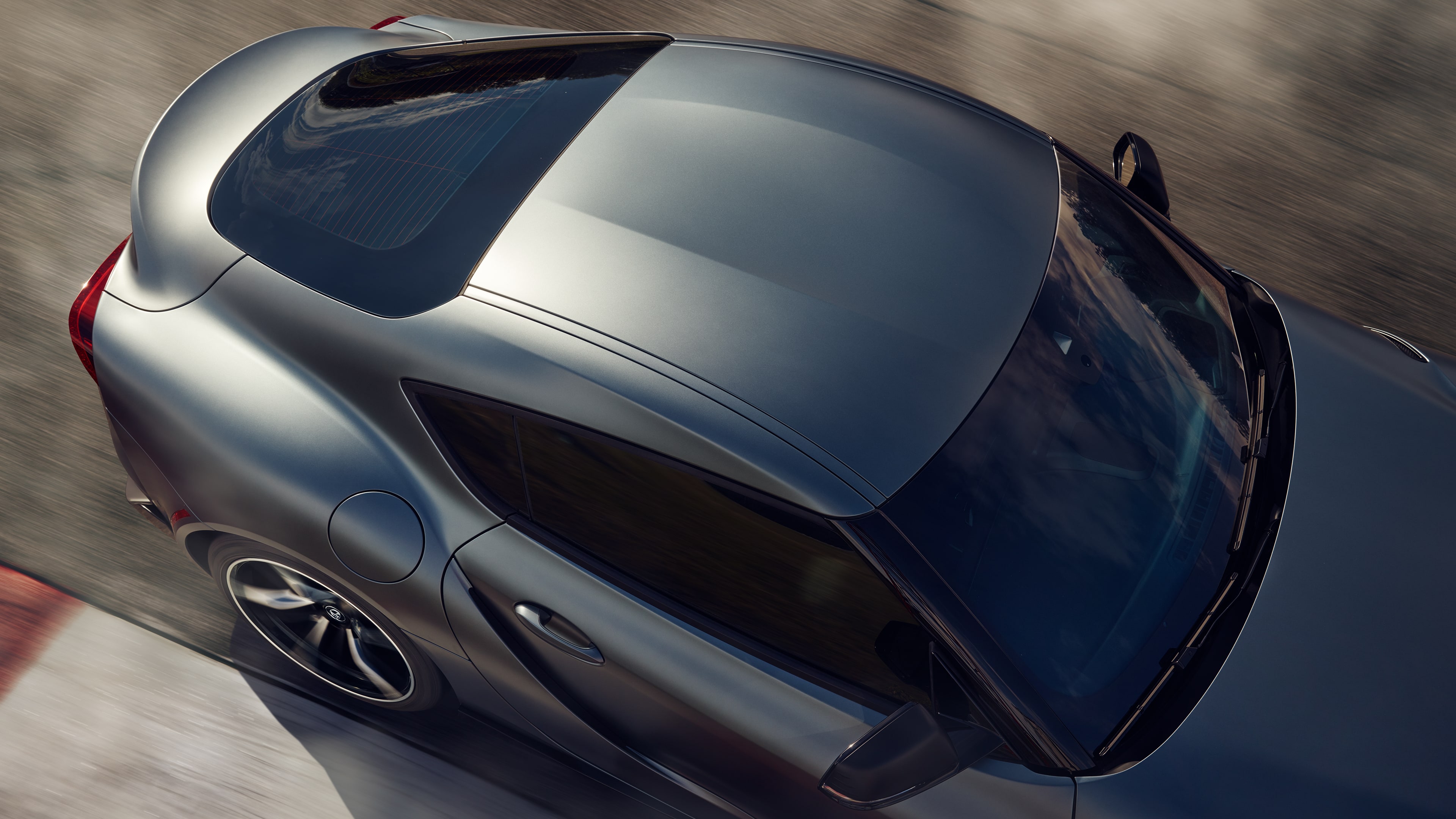 Technology & Safety – 2020 Toyota GR Supra
Supra Connect keeps you in touch with all the things that matter to you on the outside of your GR Supra. You'll get a tremendous number of features to safeguard your drive. With Automatic Emergency Call, Real-Time Traffic Service, and Concierge service. It's one of the most advanced vehicle apps in the world. Qi-Compatible wireless charging device is at your fingertips as well. What about the large touchscreen you'll have at your disposal, though? Not only will it help with selection songs to play, but it will also give you a HD overview of the exterior of your vehicle. You'll also get a heads-up display that allows you to keep your eye on the road ahead and still know all of your important vehicle information on the go.
With this being a high-speed race car, you're going to expect to see a world class safety system, and that's exactly what Toyota gives you. You'll appreciate driver-assist features like Toyota's Smart Safety program. There's a pre-collision system with pedestrian detection, Lane Departure Warning with Steering Assist, and Speed Limit Information (with a car this fast, knowing the speed limit is sometimes hard or not even desirable, so thank God there's something to remind you).
Trim Levels – 2020 Toyota GR Supra
With big, bold exterior features like 19-inch wheels and diamond-like LED headlamps, you're going to appreciate any trim, but you've got to narrow it down to one: 3.0, 3.0 Premium and Launch Edition. The Launch Edition remains one of the most hotly anticipated trims in the automotive world right now. We wanted to know what a GAZOO racing inspired vehicle would look like, and now we know. Now that our customers know, we invite all of you to pick out a trim and get down here to grab this thing.
Contact Us
Yokem Toyota specials are here to help you afford the perfect trim of 2020 Toyota GR Supra. This NASCAR inspired vehicle is serving Bossier City Louisiana with everything you can hope for in a vehicle just like this one. You're never going to tire of playing in this vehicle and taking it to its limits. Everyone who owns this vehicle will get to feel like a NASCAR champion every single day of the week. For more information about the outstanding 2020 GR Supra, just pick up a phone today and give us a call. We'll be happy to answer your questions and discuss your needs in buying the new GR Supra. Thanks for considering our dealership near Bossier City LA. We hope to hear from you soon.